Here's a quick rundown.
The 5th spawn of the F1 Lightning X Lightning Maroon Clownfish pairing was collected and hatched by Mike Doty while I was away.  In short, he scraped off the eggs, hatched them in a 1 gallon jar in a water bath with simple aeration, 75% clean new water.  Come November 28th, Mike relayed that settlement had started.  The moment we've been waiting for was here – is there something new?
Well, Mike's first words were "About 90% sure we have some normal striped fish."
This, of course, does the following:
likely rules out Lightning as a simple recessive gene. If it WAS recessive, then both parents would be "double dose" aka. homozygous, represented as l/l, which means that each parent could only contribute a recessive lightning gene, and thus, each offspring would also get one copy each, one from mom, one from dad, and thus, could only be l/l as well. For the moment, while another couple test matings will bolster the data, the fact that there are white-stripe offspring pretty much precludes this being a standard single allele, single locus, recessive trait.
does not rule out straight dominance. If it was straight dominance, and each parent is "single dose" aka. heterozygous, represented as L/+, then 25% of the offspring would not get a gene from either parent, and thus, 25% would be white stripe maroon clownfish.
nor does it rule out partial dominance. This of course, would work the same way as dominance, except that 25% of the offspring would get a lightning gene from EACH parent, and would be homozygous for Lightning, represented as L/L. This is the scenario that most people are hoping for, because with the new homozygous state, there comes the potential for a new phenotype that could be different from the Lightning that we know.
As of today, 12-8-2014, I spoke with Mike briefly and have to relay this news – while he doesn't have many babies left, he believes that the phenotype split is roughly 50/50.  That is to say, half white stripes, half lightnings.  So far, he also has not seen anything unique or new in this F2 generation.  I have yet to see the babies for myself, and have yet to take pictures or do a headcount, but these cursory, informal results, mirror another clownfish mutation that seems to not fit the mold as we'd expect – SNOWFLAKE in Ocellaris.  It's my hope to get over to Mike's today yet to see for myself.
In other news, the 6th spawn of the F1 Lightning X Lightning pair was put down on 11/29/2014. It appears I finally won the battle of the tiles:

Meanwhile, I brought some new clownfish into the fishroom earlier in November (the 19th and 22nd) and was trying out the new Ick-Shield food from New Life Spectrum.  This is basically a Chloroquin-laced pellet food that is meant primarily to prevent disease such as
Crytopcaryon
,
Amyloodium
,
Brooklynella
etc…pretty much the things which are sensitive to the active ingredient. I decided to not simply feed this fish to the new arrivals, but also to feed it to one of my holding systems AND the wild Lightning Maroon and her mate as preventative medication, just in case.
Well, it turns out that there is an unfortunate side effect to this feed; it seems to shut down breeding activity.  All my routine pairs stopped spawning. The Lightning and her mate did finally put down a spawn on December 1st, 2014, #46.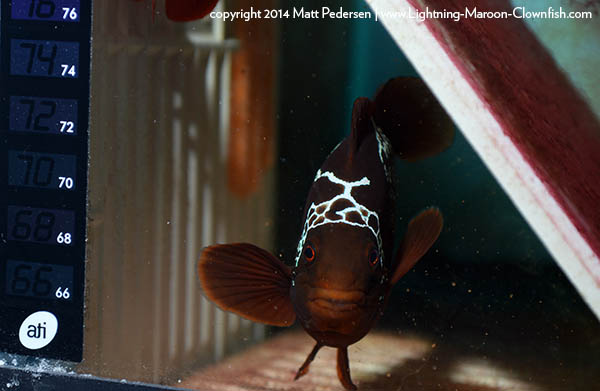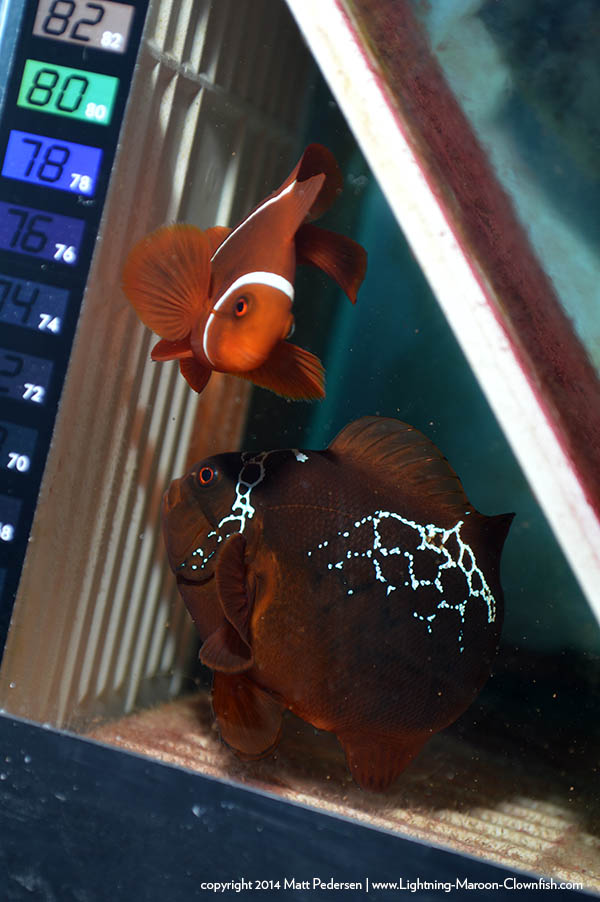 Unfortunately, it appears as though the spawn was not fertilized…the eggs didn't develop, and after 48 hours they were gone. A few days after that, I read, anecdotally, that Chloroquin can cause male sterility??? Not permanent according to the rumor, but certainly a potential setback. As far as the efficacy of the food, my jury is out. The larger fish which were feeding well on it by and large remained disease free, but not all did.  I still had a
Brooklynella
outbreak, although not in the fish I would have necessarily expected. Once that outbreak started, it then affected other fish as well despite their feeding on the pellets.  I'm also seeing either
Cryptocaryon
or
Amyloodium
on fish which were visually "clean" upon arrival, which were in dedicated QT systems, feeding on this food from day one.  So the question here is were they simply getting ENOUGH feed as they were small fish which cannot readily eat the small pellet size.
So of course, one is left with questions, not answers.  There is no way to say the food didn't work, nor is there any way to prove that it does work. Absence of disease is not proof of prevention, that much I know for certain. Lack of a cure, or lack of prevention, which IS documented, only raises questions about why it didn't work as suggested and certainly requires investigation (eg. would a smaller pellet size be better accepted…could these failures stem from simply lack of feeding, or lack of sufficient feeding, thus insufficient dose to the fish?).
Circling back to LxL Spawn #6, as the week progressed an interesting change in behavior occurred starting around December 4th, 5 days post spawn.  The larger female F1 Lightning became belligerent towards the male, and over the day drove him from nest tending duties.  December 5th, a Friday, would have been 6 days post spawn, and the night of the first hatching.  I was simply swamped with preparations for sending our dog to live with my brother, and failed to pull the tile.  By morning, Saturday, December 6th, 2014, it appeared that I had not missed much…most if not all the eggs were still there. The pair remained at odds.  We left for the weekend to ship our family dog, and upon Sunday, December 7th, there were still a few dozen eggs remaining, although they appeared potentially dead and disappeared throughout the day.  By nightfall, the pair was starting to be less antagonistic, but I am still keeping a close eye on them.  Hopefully, we'll get another spawn soon – this was the only mature pair in the house that didn't receive Chloroquin-laced foods (as they don't reside in the fishroom with the rest of the fish).