< Back to Catalog
Status – arrived safely in Miami, FL – SOLD AT AUCTION – winning bid $4650 as a PAIR with LM17
Type – Premnas biaculeatus "MW PNG Lightning" F1
Parents – P. biaculeatus "PNG White Stripe" F0 (male) X P. biaculeatus "PNG Lightning" F0 (female)
ID – LM18
Hatch Date – as near as I can pinpoint, Spawn #10, hatched on 8-16-2013

Images Taken 12/13/2013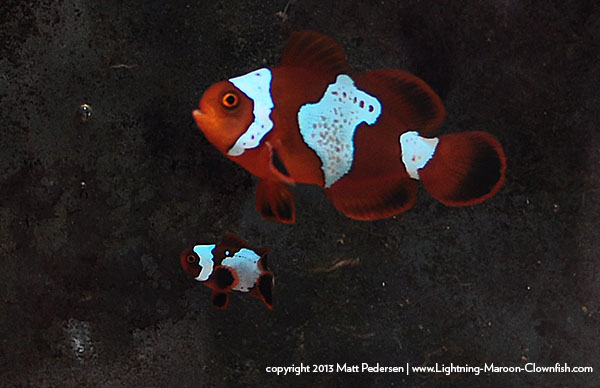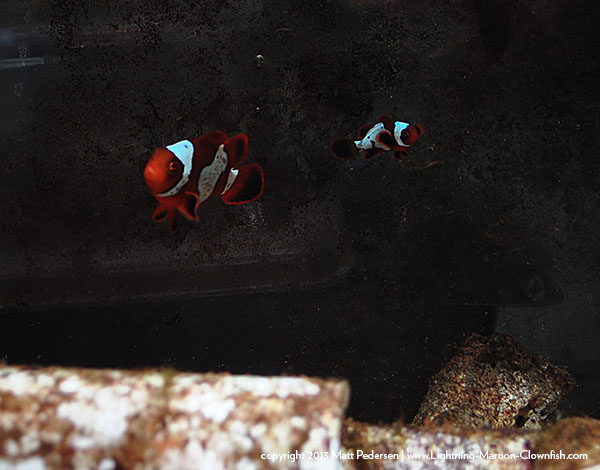 Images Taken 5/16/2014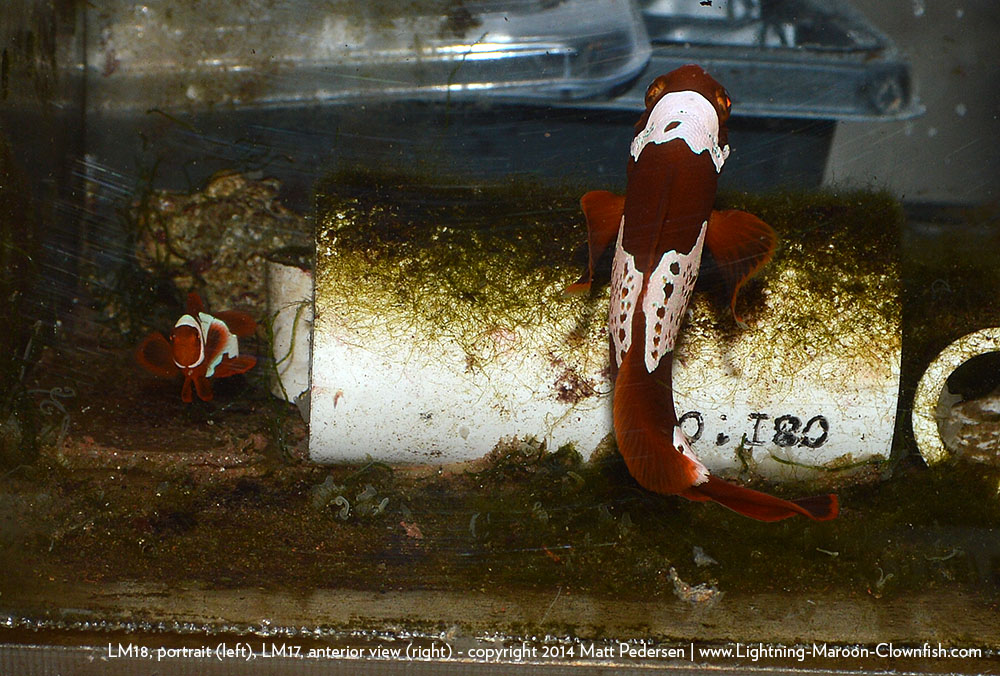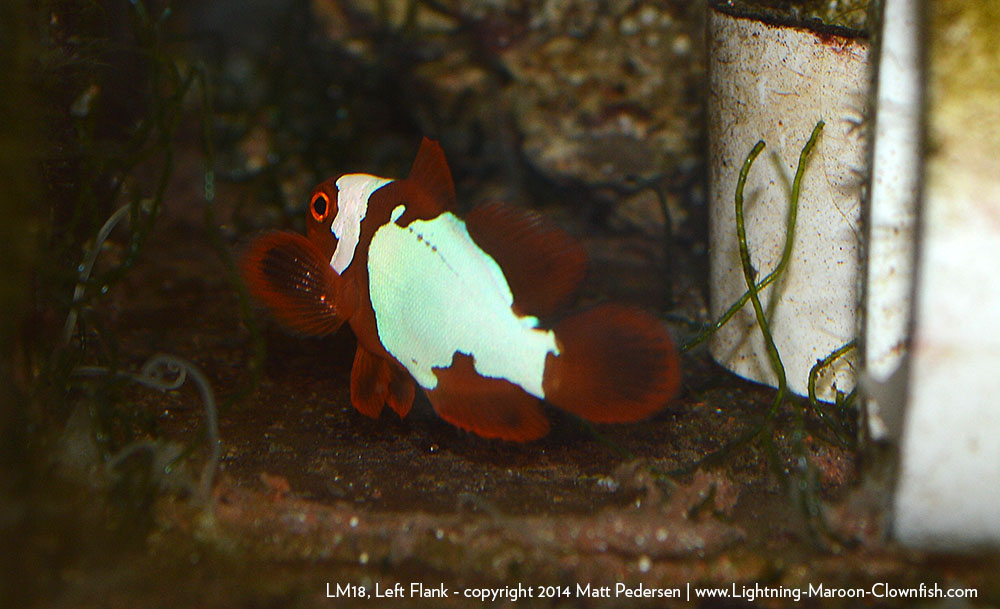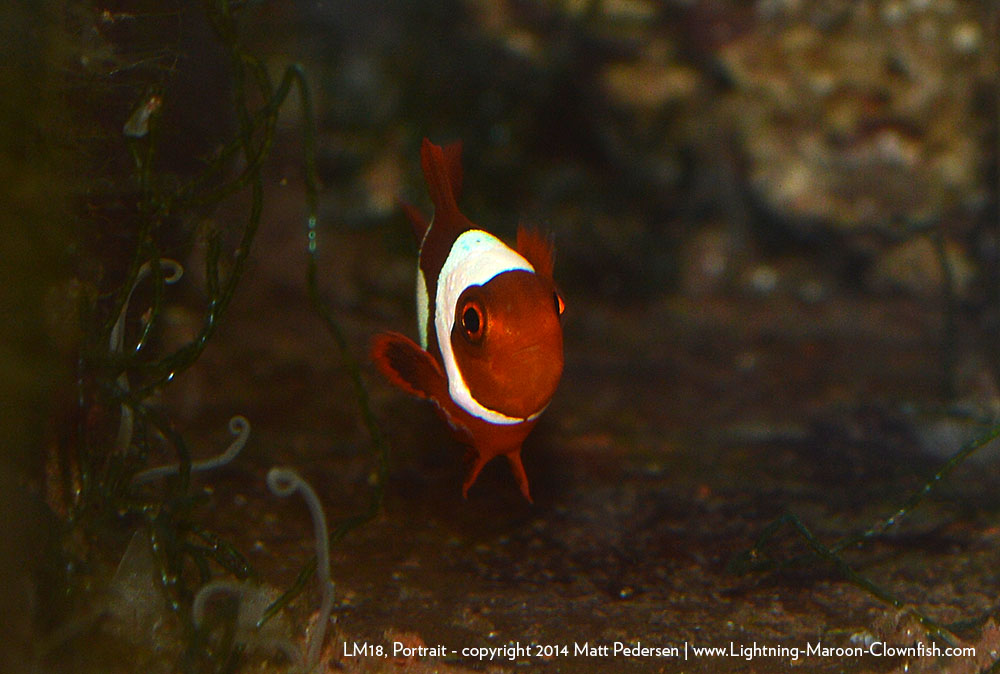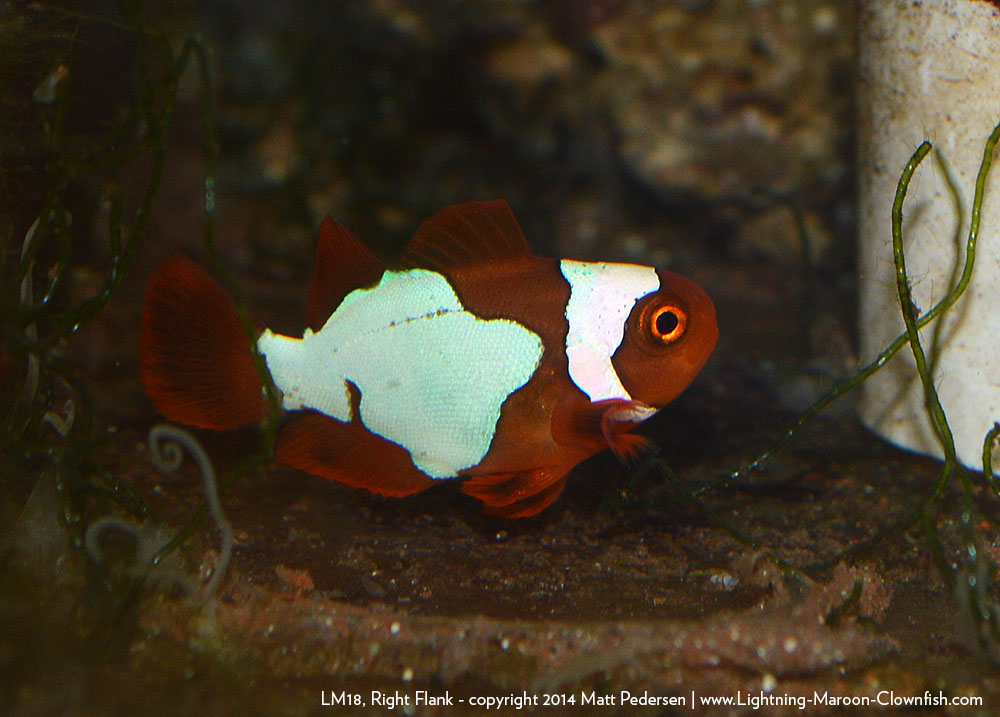 Remarks:
Somewhere along the way I didn't keep the best records on the fish I hatched in 2013, so I've had to go back through my notes to look at my remarks for each batch in an effort to determine which fish are which.  LM18 appears to be either from Spawn #10 which hatched on 8-16-2013, or possibly Spawn #13 which hatched on 9-30-2014; both spawns produced a single sole-survivor Lightning Maroon. I've had some losses over the years, and not every fish was tracked as well as it should have been.  Based on the size of the fish at the time of the photo and the fact that my last note regarding the fish from Spawn #10 being placed with my Fire Clown offspring, I would say it belongs to #13 (mixing with the Fire clowns proved to be a bad idea, as denoted with the white stripe sibling of
LM17
.   However, based on my recollections, and the probably placements of some other offspring, I believe this fish IS the sole survivor from Spawn #10. I did perform a number of culls on offspring, and it is quite possible that the fish from #13 was one of those culls.
Lightning Maroon Clownfish #18 (LM18) has no visible defects of any sort; it is simply very small.  In every other respect, probably one of the most pristine Lightning Maroon Clownfish my basement has produced – I directly attribute that to being reared singly vs. with siblings. At some point in 2013, LM18 made its way through the drilled holes in my cubes and wound up deciding to stay with LM17.  They have lived together for over half a year now.
The most interesting aspect of this fish is how little it has grown since residing with LM17 in the shared cube.  In fact, I almost don't feel like it has grown at all.  Younger offspring in neighboring cubes have surpassed it in size; some are nearly double it at this point. Whether the small size of LM18 is simply a function of it being difficult to get food, or a function of social pressure, is up for debate.  Whether LM17 and LM18 would continue to cohabitat peacefully in a new tank is ALSO a matter of debate – it could go either way. I would strongly suggest that anyone obtaining these fish as a pair should probably go through the steps of initially separating the two fish physically, but not visually, and allowing LM18 to grow a little bit before carefully monitored reintroduction.
As of 6/6/2014, this fish was 1 inch in total length.
< Back to Catalog