< Back to Catalog

Status – arrived alive in NC, 9/24/2013, ASOLD AT AUCTION – winning bid $317.50
Type – Premnas biaculeatus "MW PNG White Stripe" F1
Parents – P. biaculeatus "PNG White Stripe" F0 (male) X P. biaculeatus "PNG Lightning" F0 (female)
ID – WS9
Hatch Date – June 29th, 2012
Images – Shot 6/17/2013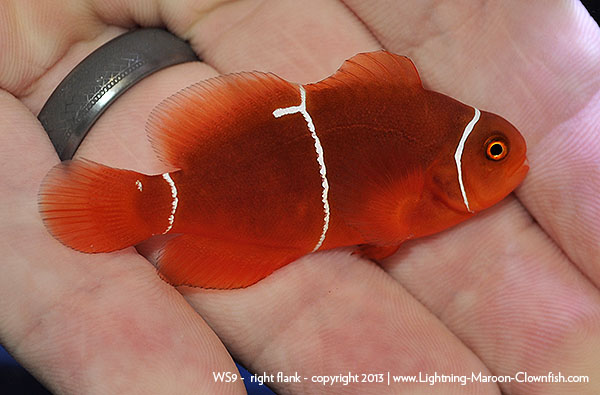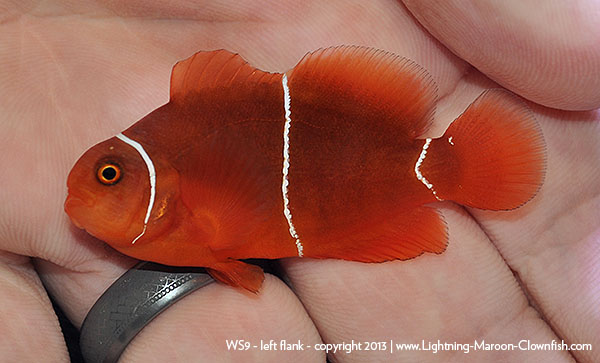 Images shot 9/9/2013

Remarks:
I'm torn on a fish like this, just like I was with WS7.  The patterning, being one of the few "horned" maroons that showed up, is show stopping in itself.  The big problem with this one is the shape of the face, it's definitely snub nosed.  Whether this is from rearing issues or from the constant bickering between the fish from a very young age is up in the air.  Either way, it's not likely genetically caused.
This one is definitely noteworthy for the symetrical white spot at the base of the tail on both sides of the fish, as well as the "horning" on the right flank midstripe.
Any other clownfish wouldn't knowing leave my fishroom with a face like that, this would normally be a fish to cull. As with all fish being offered, the defects are not presumed genetic at this time, and the main reason for offering these fish is to broaden the size of the F1 population going forward (ensuring genetic stability where possible).
< Back to Catalog