< Back to Catalog
Status – beaten by siblings, did not recover.  Died in MN, 9-4-2013
Type – Premnas biaculeatus "MW PNG Lightning" F1
Parents – P. biaculeatus "PNG White Stripe" F0 (male) X P. biaculeatus "PNG Lightning" F0 (female)
ID – LM10
Hatch Date – June 29th, 2012
Images – Shot 6/17/2013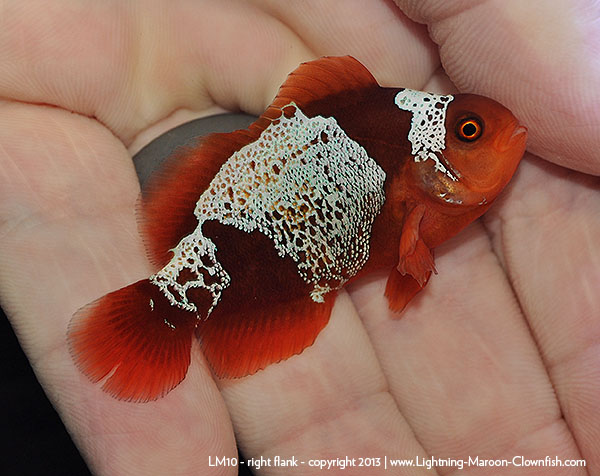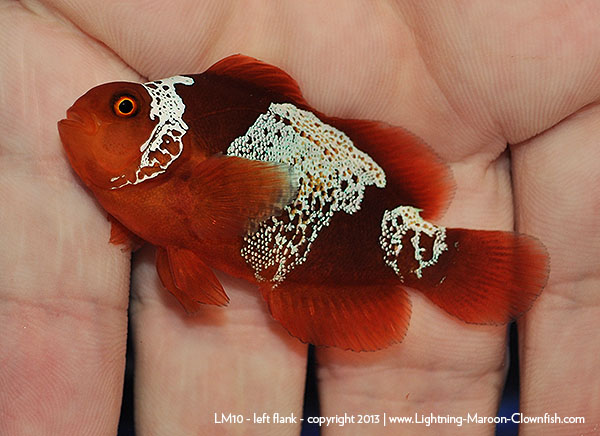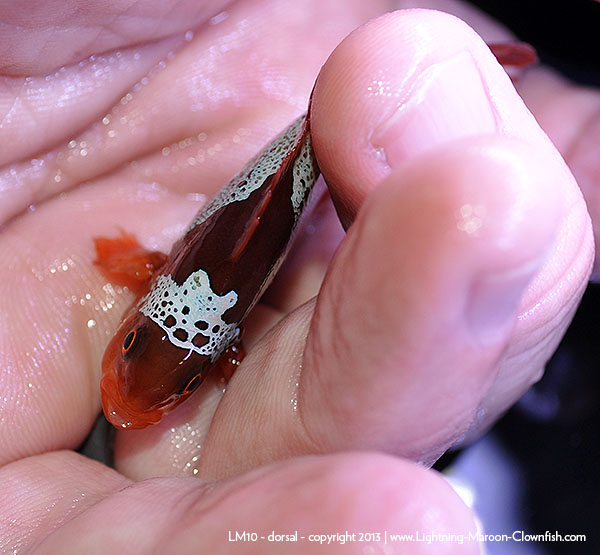 Remarks:
I like this fish overall.  Pattern is good, body shape isn't too off.  That said, this fish does have flaws.  At the time of photographing, it had a split caudal fin (possibly from fighting or handling). The right pectoral was pretty chewed up (presumably from fighting).  The ventral fins have the shape of being damaged in fighting (they're far from perfect in my opinion) and the head isn't quite how you'd like it.  Far from the worst though, and presumably by the time this fish is offered the fin damage will have healed (unless it's scarred, in which case the right pectoral fin would remain kinda gimpy).
Update:
Sadly, this fish was killed by its siblings, and passed away on 9/4/2013.  As you can see in the photos above, this fish, despite being rather large, may have been receiving some chronic abuse from its brothers. A few days prior to its death, when reviewing the communal tank, I noticed this fish in bad shape. The pectoral fins were badly chewed back, and I opted to separate the fish to allow it to recover.  This has always worked well in the past, but for some reason, this fish didn't come back and instead declined. I'm presuming that a systemic bacterial infection ensued and is actually what killed the fish.

< Back to Catalog