< Back to Catalog

Status – Killed by WS10 after multiple failed pairing attempts in early 2014. With S&R Clownfish, arrived safely in Florida 9/4/2013, SOLD AT AUCTION, winning bid was $1000.00
Type – Premnas biaculeatus "MW PNG White Stripe" F1
Parents – P. biaculeatus "PNG White Stripe" F0 (male) X P. biaculeatus "PNG Lightning" F0 (female)
ID – WS8
Hatch Date – June 29th, 2012
Images – Shot 6/17/2013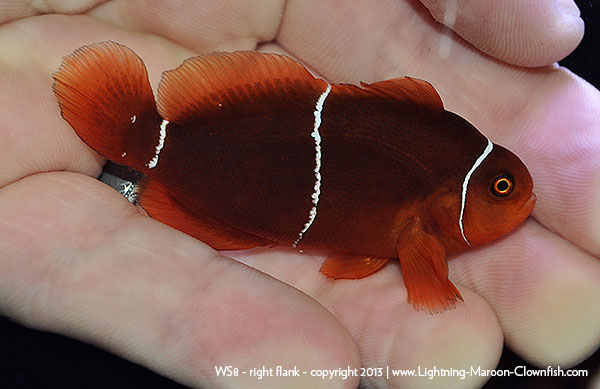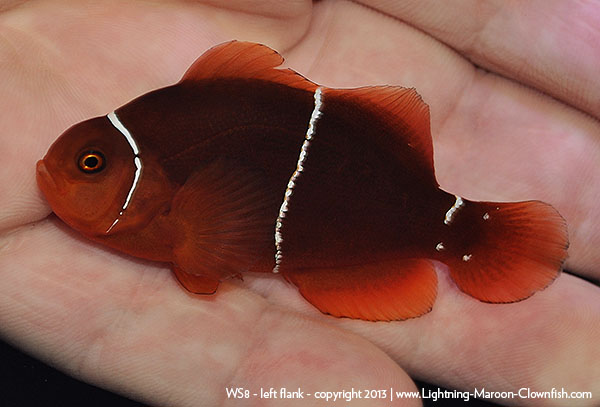 More images, shot 8-15-2013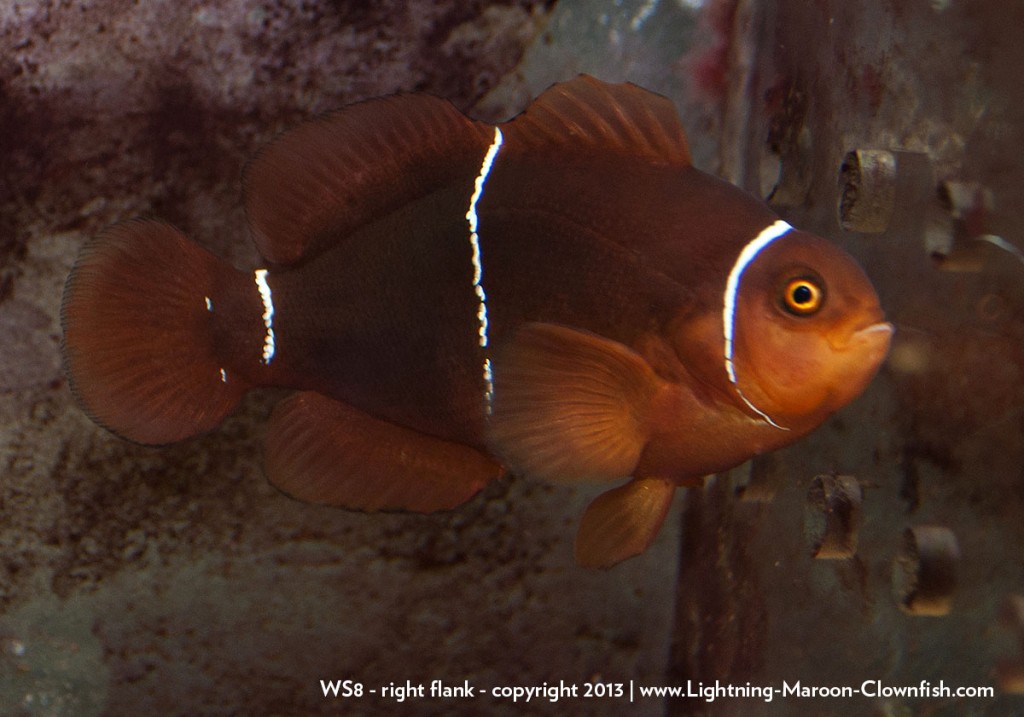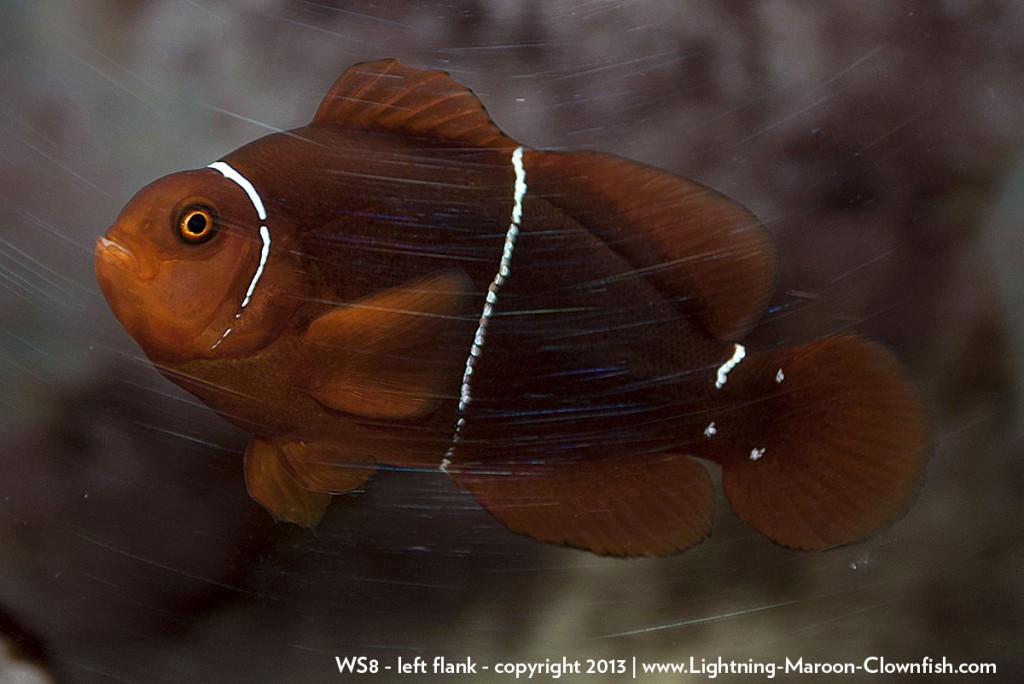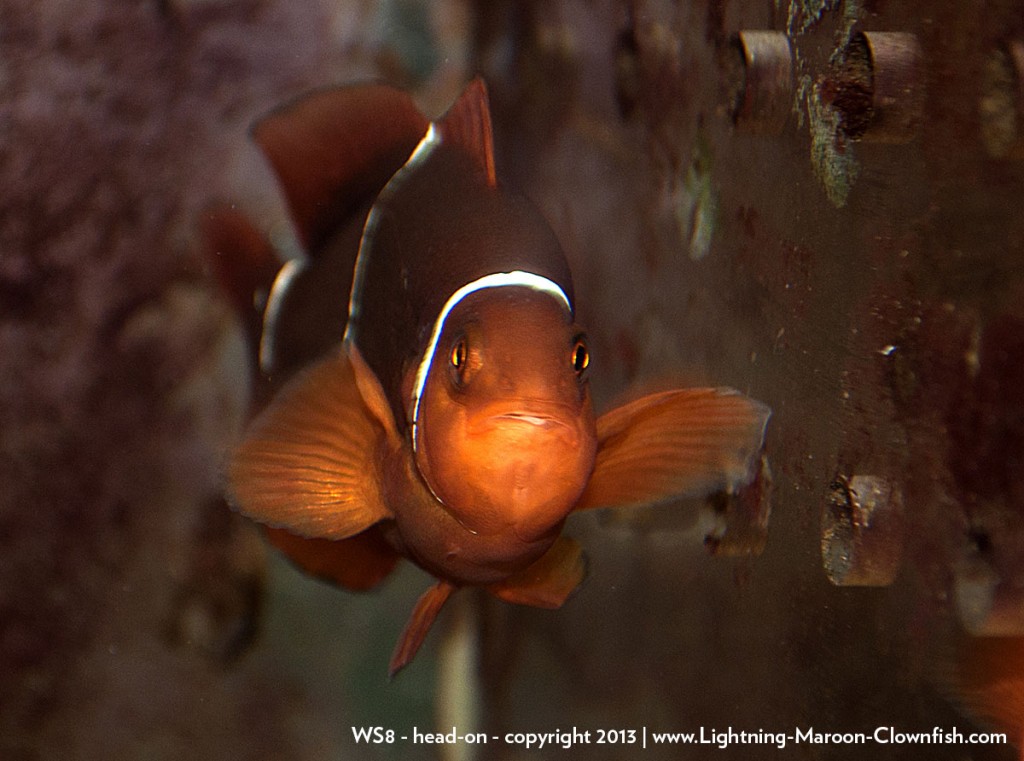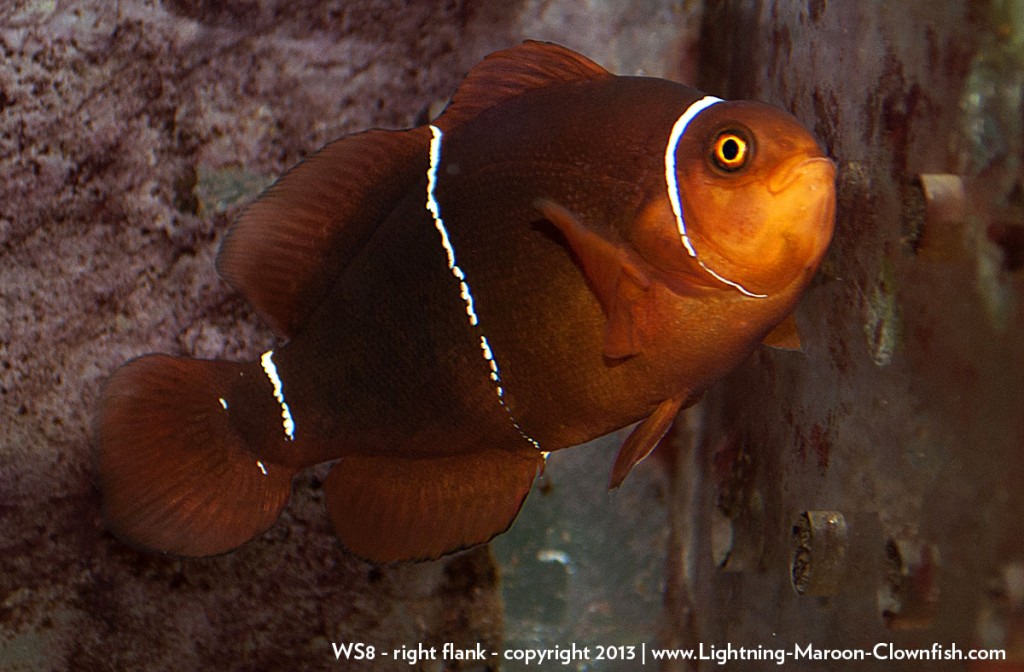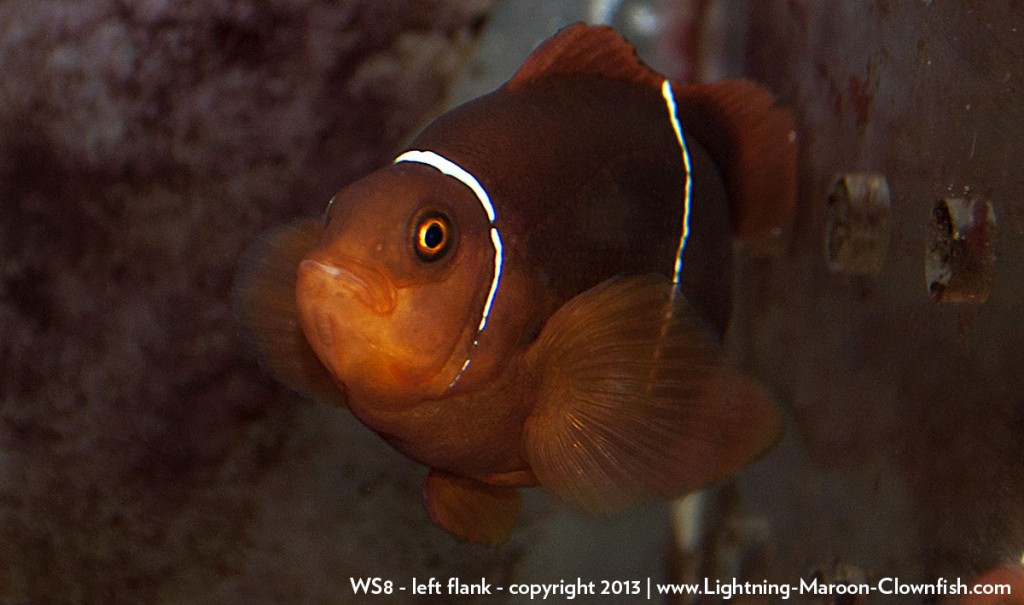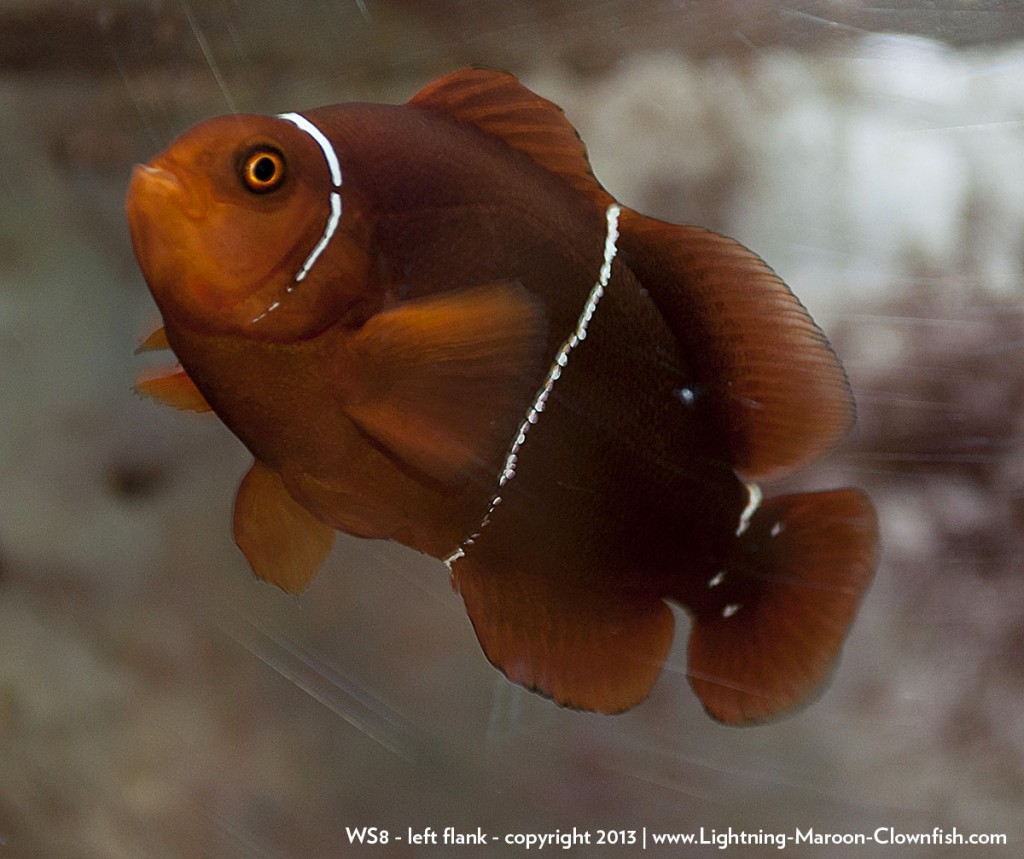 Remarks:
An interesting fish with dots on both sides and broken left headstripe.  Known flaws include a split in the dorsal fin which may or may not be permanent (the likely result of fighting) – appears healed as of 8-15.  The head shape isn't perfect, a bit of the pug head that some of these fish wound up showing.  The left ventral fin is very skewed. Looking back at the photos and my hands, this is one of the larger ones at this time.
A fish like this might wind up being culled or further grown out ordinarily (a wait and see). As with all fish being offered, the defects are not presumed genetic at this time, and the main reason for offering these fish is to broaden the size of the F1 population going forward (ensuring genetic stability where possible).
Update, 9/7/2013
"Update on ws#8 and ws#10. The day they arrived which was Wednesday[September 4th], they both looked fine and went into their 29g qt together. All was well the first day and I left them to go out for a while and when I came back I saw that #10 had been picked on by #8 and had some shredded fins but no major damage. I sent my husband for a breeder box for the smaller one at Matt's suggestion but while he was gone I decided to place some egg crate between them. That seemed to work well until later on when I saw that the fish had exchanged sides! I went out to the garage for another piece of egg crate and used railroad ties to keep them together to form a tight fit to the back of the tank.
The next two days were uneventful of course. I could tell there was some resentment from the smaller one because she wanted to swim around and explore her new home.  The other just wanted to bully.
Today is Saturday and since I was home from work and could watch them I pushed the egg crate a little so they could visit each other.  Watching them was a good thing to do as the little one did the twitching to let the other know he was submissive.
When I walked away and then came back it was worse. It's like they know I am watching them.  When I took pictures yesterday they actually hogged the camera as if they knew what I was doing so I guess Matt took lots of pictures of all of them.  So, after leaving the egg crate sideways for about 30 minutes I decided to close it off again.
When I can hang around in my bedroom and read or watch tv I will do the same again. Hopefully by the end of my qt time which I was hoping to be  around 30 days, they will be fine together.  Time will tell. I am planning on keeping them together for breeding so as to further the investigation of the genetics on the PNG Lightning Maroons as well as producing good healthy maroons that might want to be used by others working with the png bloodline in the future.  I will be very happy to have happy and healthy fish as well." – Sue Ingold, S &R Clownfish