< Back to Catalog
Status – arrived safely in Miami, FL – SOLD AT AUCTION – winning bid $4650 as a PAIR with LM18
Type – Premnas biaculeatus "MW PNG Lightning" F1
Parents – P. biaculeatus "PNG White Stripe" F0 (male) X P. biaculeatus "PNG Lightning" F0 (female)
ID – LM17
Hatch Date – Likely April 5th, 2012, Spawn #4
Images – Shot 9/9/2013

Image Shot 10/14/2013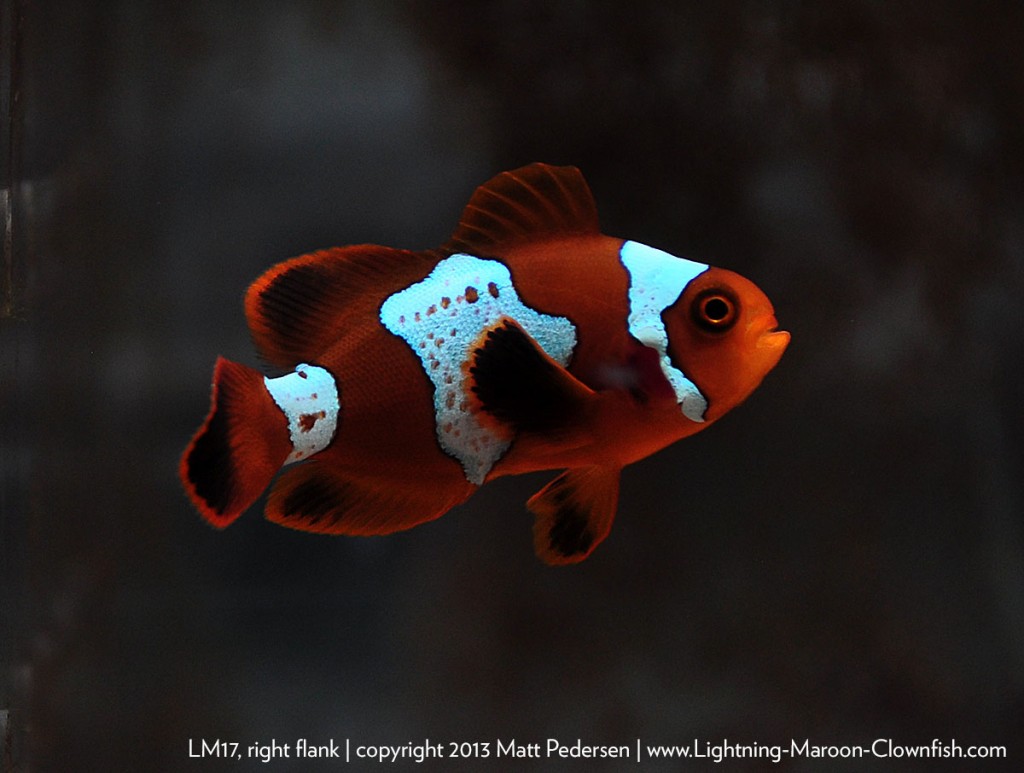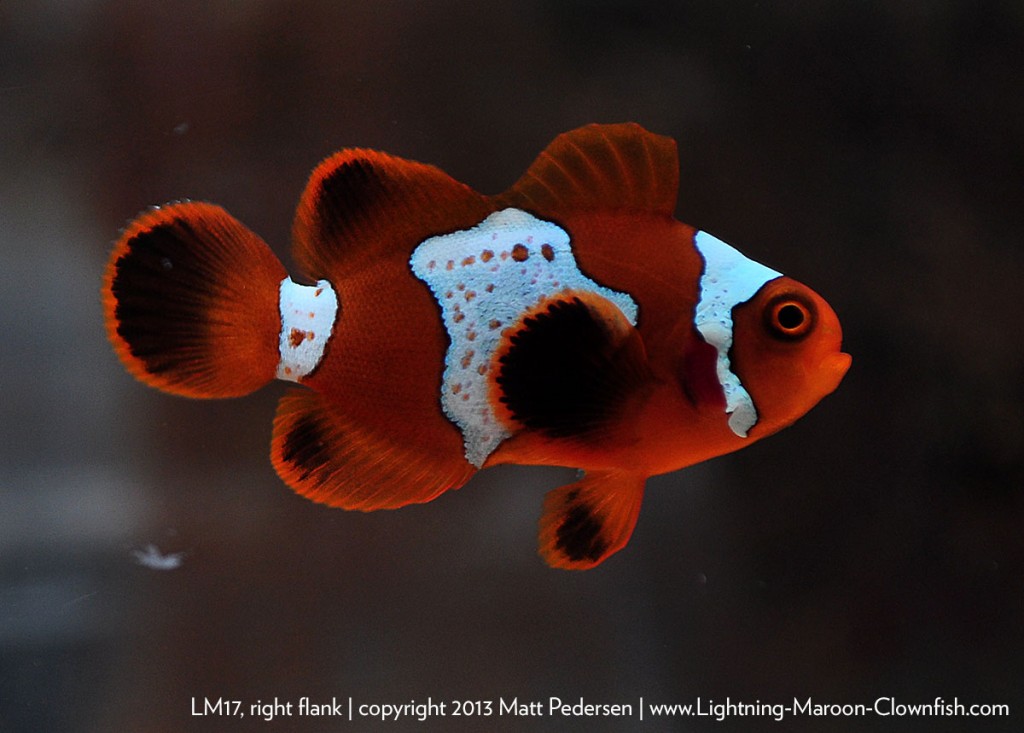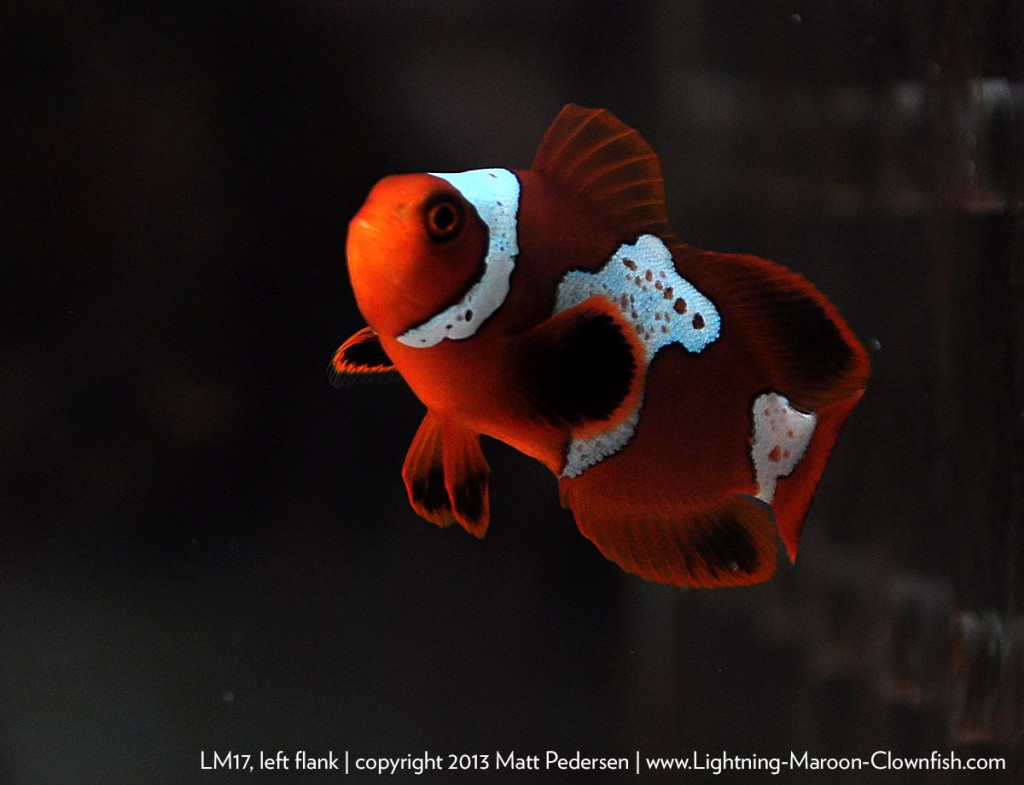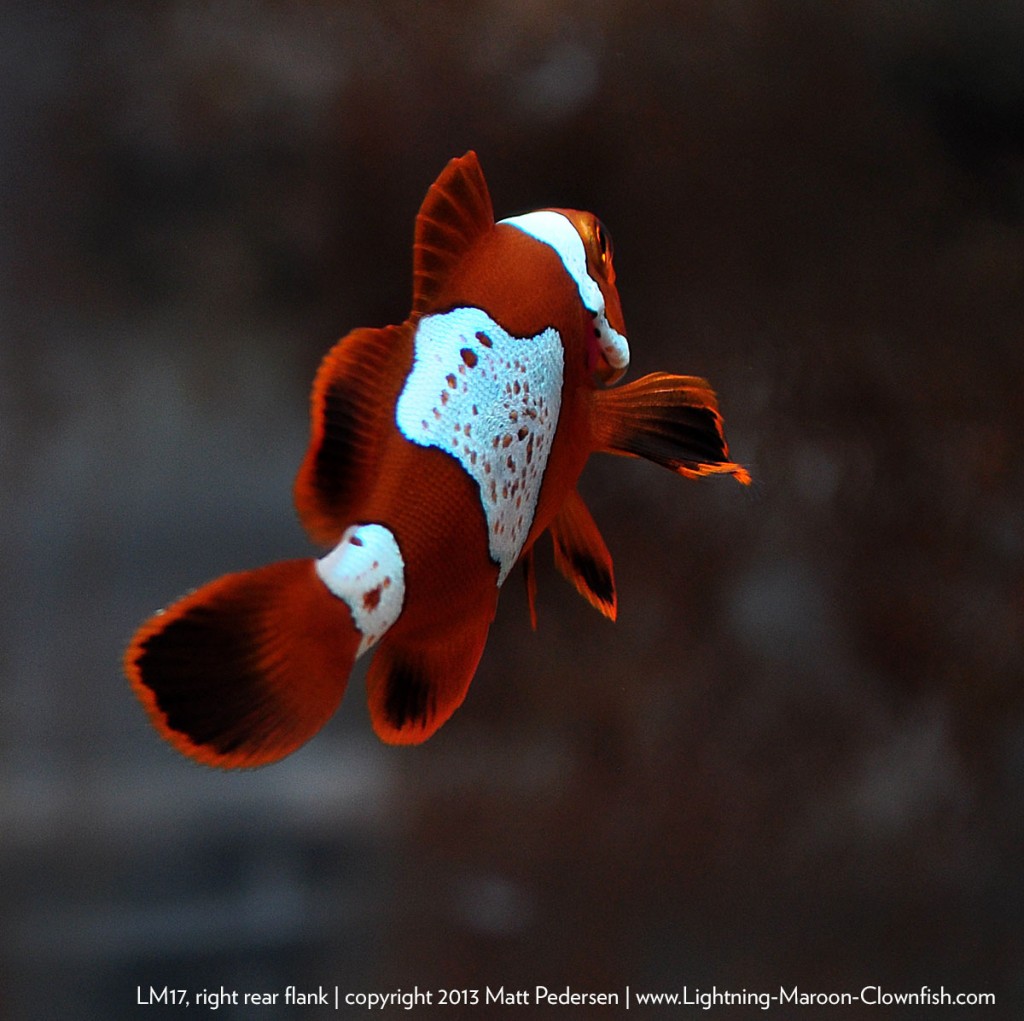 Images Taken 12/13/2013
Photos shot 5/16/2014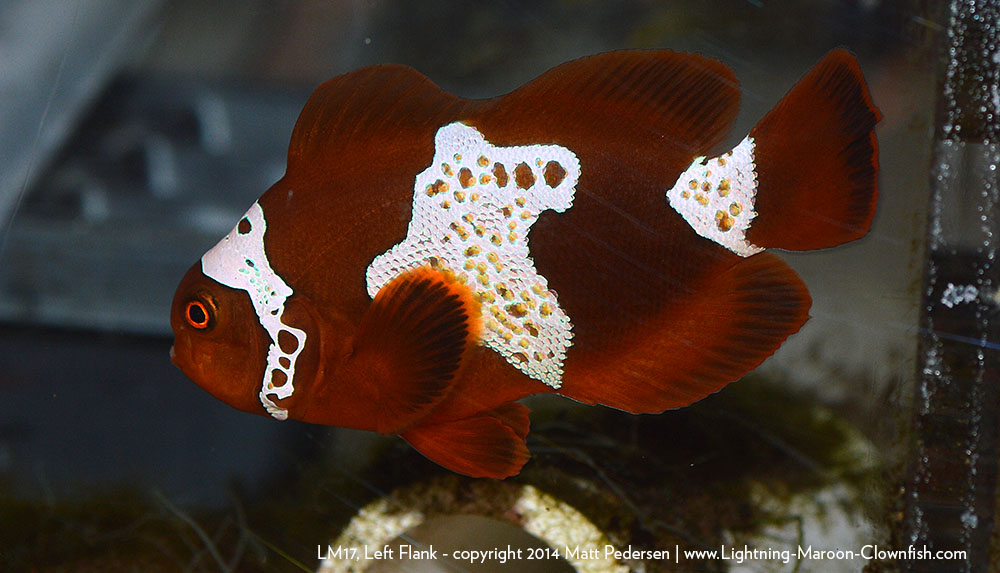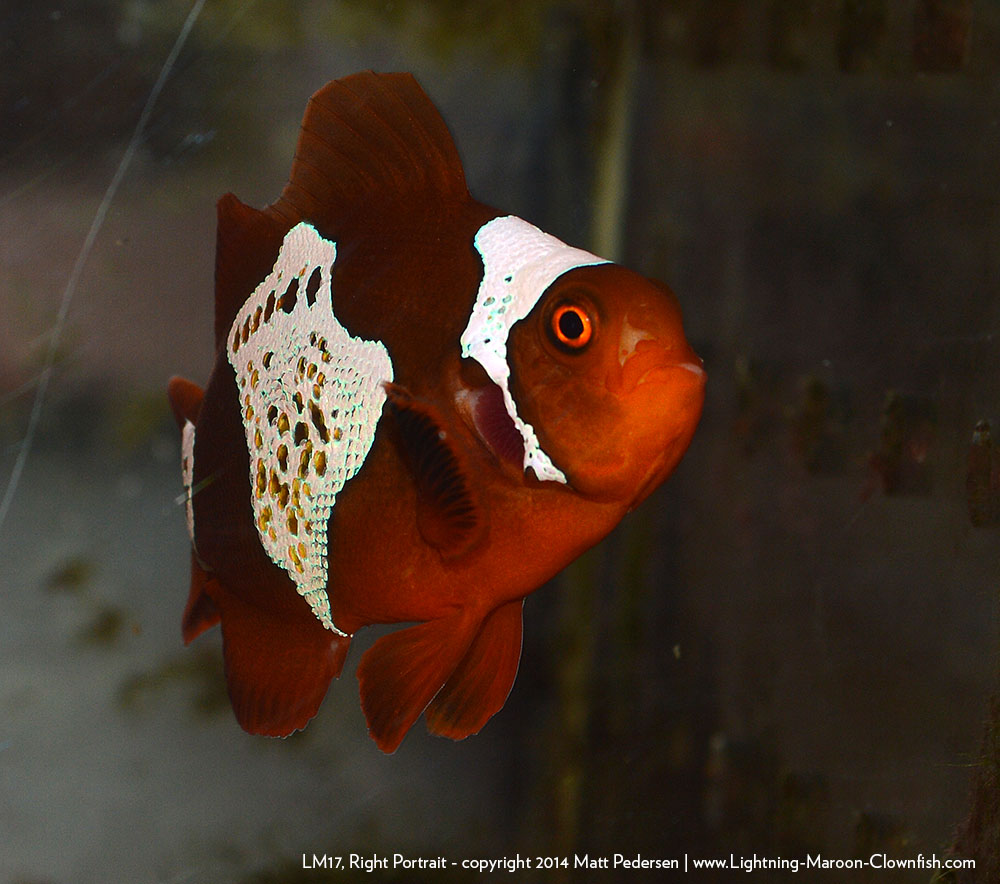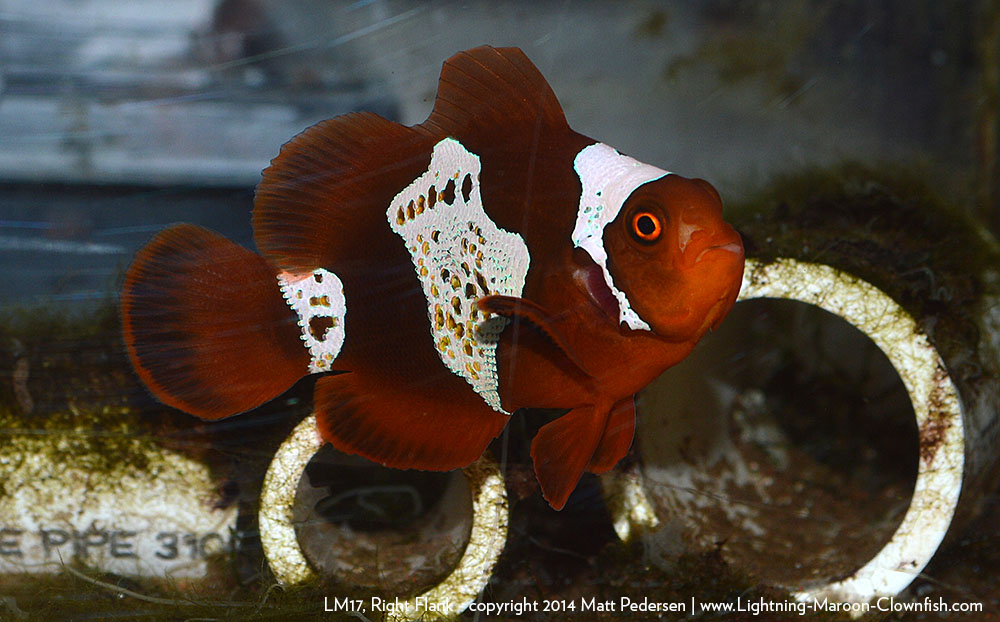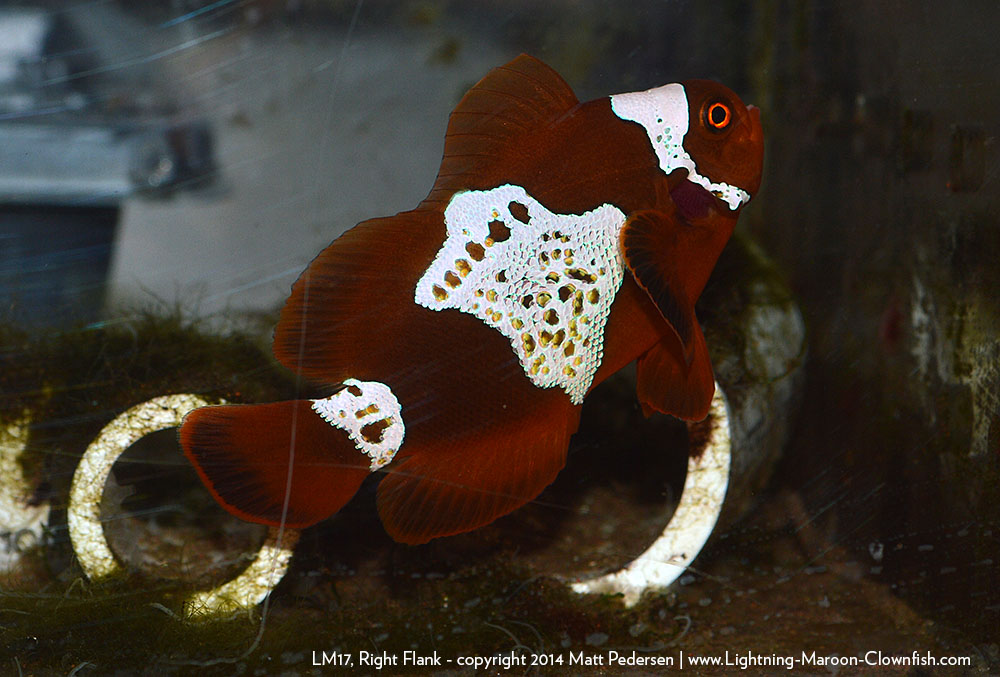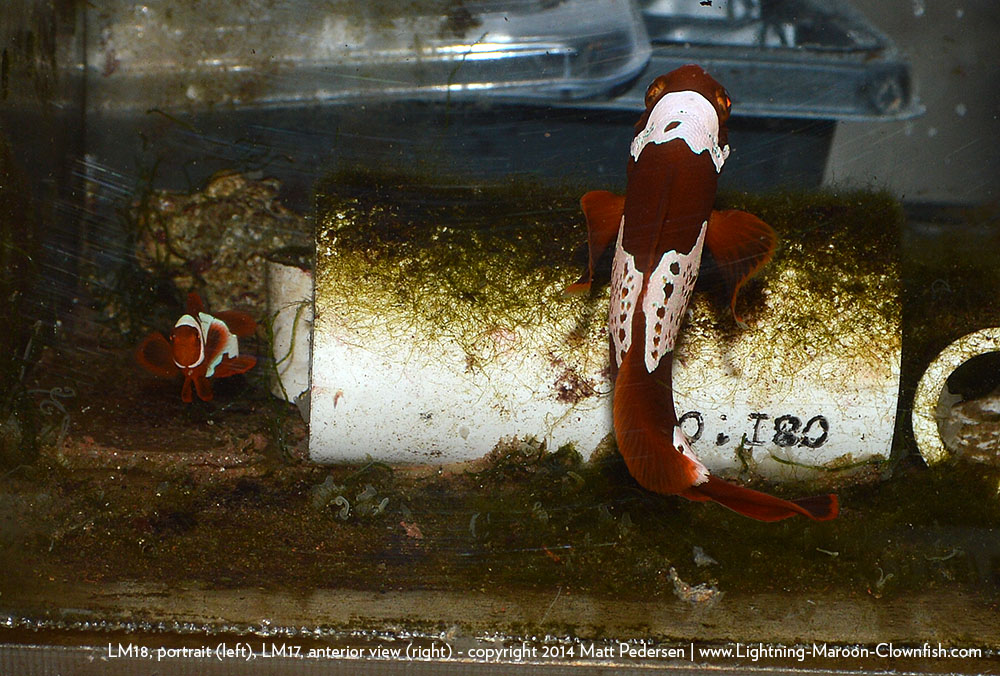 Remarks:
This fish is the only specimen reared from the first half of 2013.  In late August, 2013, this fish was moved from the the BRT into a single cube, while it's white-stripe sibling was moved into a tank with similarly-sized Fire Clowns (
Amphiprion ephippium
).  This was a bad idea…the fire clowns dispatched the white stripe maroon the very first night.
I had strong hopes that since this Lightning was pretty much reared solo, it'd be in perfect shape.  Well, once it was up and could be seen from the side, it became readily apparent that the fish was *almost* prefect…fins are great, body is great.  I think the fish has a bit of an underbite, but there's one glaring problem – a SHORT GILL on the right side!  Will this fish grow out of it's defect?  I suspect not, but only time will tell.
As of 9/10/2013 ,I would say that LM17 is approximately 1″ in total length.
LM17 is paired with LM18…amazing how long they've lived together now (has been months, maybe even over half a year) in a very tiny cube.  I've noticed as the fish has grown that there is some strange underdevelopment in the face around the nostrils; doesn't seem to be any sort of HLLE, looking back you can see it's always been there; I think the recent photos accentuate it more than in real life. Presumably, whatever caused the short right gill may have been responsible for this as well.  As of 6/6/2014, this fish was 2 3/8 inches in total length.
< Back to Catalog