Back in June, we (I, Blue Zoo Aquatics, and Sea & Reef Aquaculture) announced an unprecedented raffle contribution to the Marine Breeding Initiative (MBI) in recognition of the 5th Annual Marine Breeder's Workshop, which is coming up quickly on July 19th, 2014, in Bloomfield Hills, Michigan. In short, Blue Zoo and I contributed one of my holdback Lightning Maroon Clownfish, Sea & Reef contributed two F1 Morse Code Maroons from unrelated PNG Bloodlines to get one to pair with the Lightning Maroon, and Blue Zoo Aquatics footing the bill to ship the resultant pair to the winner within the continental US after the workshop.
Well, the first hurdle has been seen, and passed. On Wed., June 18th, Soren Hansen of Sea & Reef Aquaculture shipped out two select Morse Code Maroons from Maine, to Duluth, MN. In a turn of events that I think has never happened to me before, poor weather somewhere along the route caused UPS to fail to deliver the package that Thursday. Soren and I were quite anxious to see what was in the box when it finally arrived on Friday, June 20th.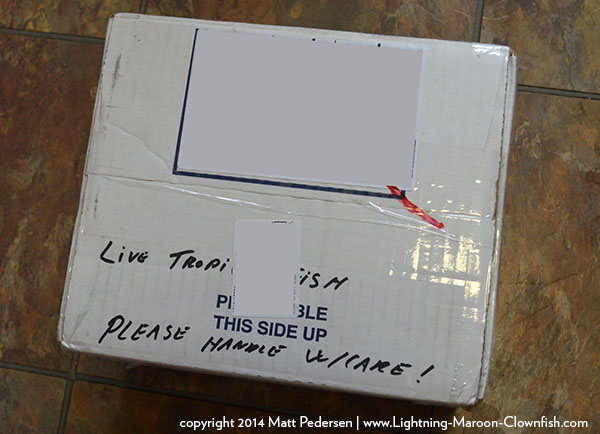 My son, Ethan, was eager to see what was in the box too!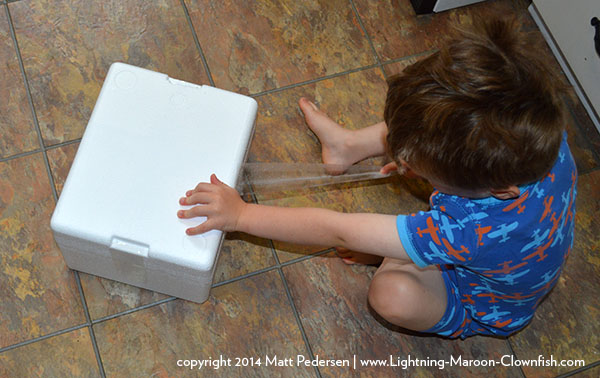 The moment of truth – was it a box of dead fish, or had Soren's packing stood up to the challenge imposed upon the fish?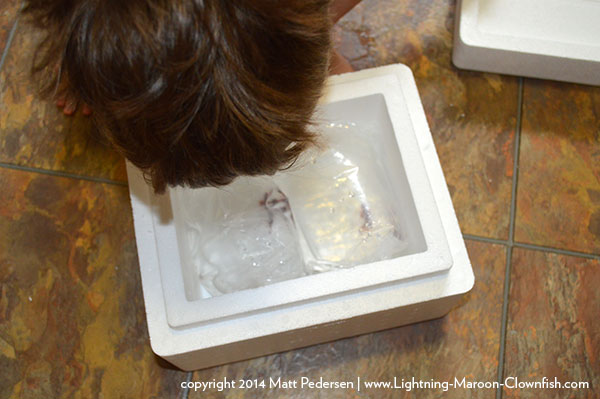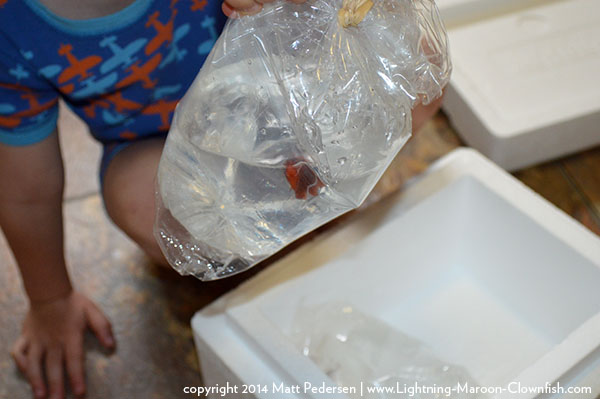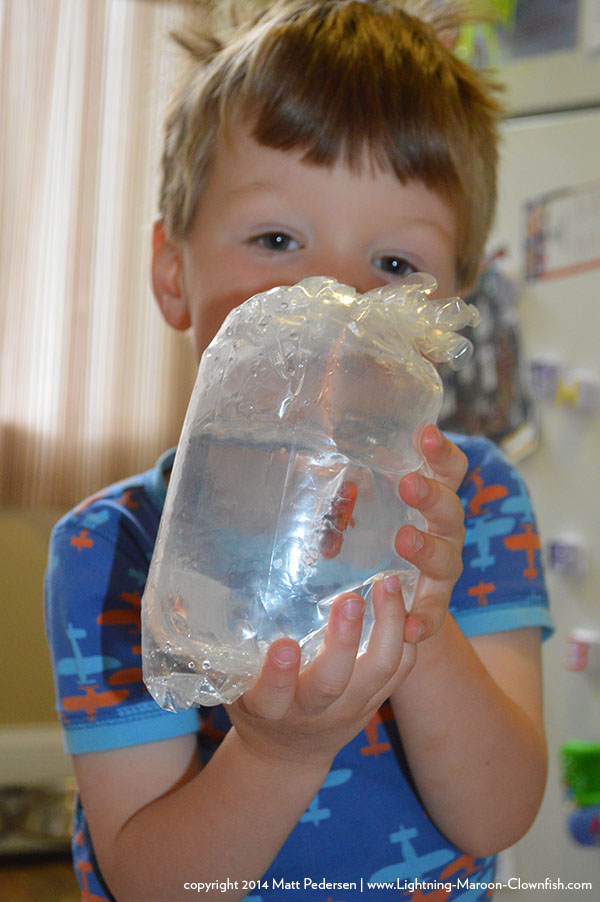 Yes, that was Soren just going 2 for 2, successfully shipping fish an extra day without issues. The fish were honestly a little stressed out from the extra time in the bags. Both were placed into a 5 gallon bucket with a fair dosing of ChloramX to neutralize ammonia, and then were drip acclimated to reside a cube that had, for months, held my White Stripe X White Stripe holdback pair.
Initially, I thought I might pair up the smaller one with the holdback Lightning Maroon (MWP3), so for the first few days it was given the freedom to explore the main tank.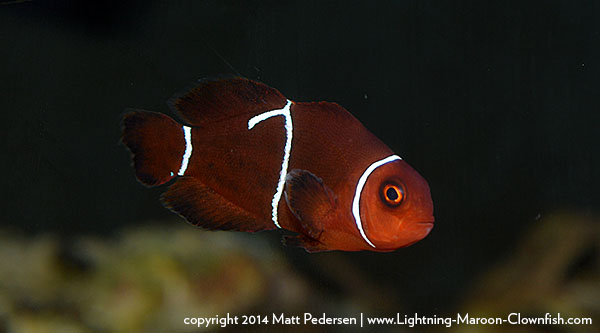 Meanwhile, the larger Morse Code Maroon was acting a bit jealously. Every time I walked up to the tank, this was what I saw.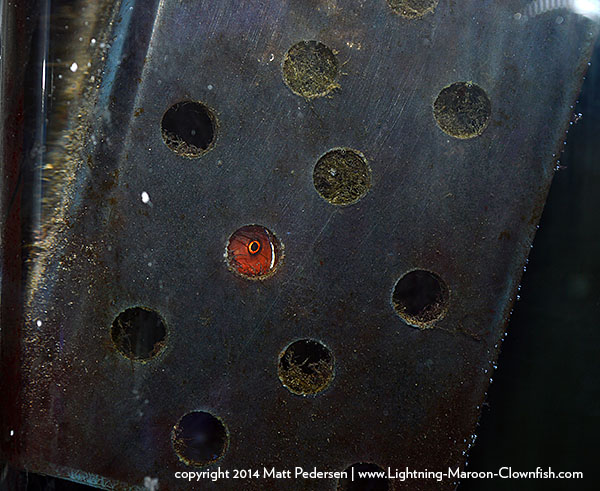 So, I switched things up, and allowed the larger one to be out and about, while placing the smaller one into isolation. Here's the larger one…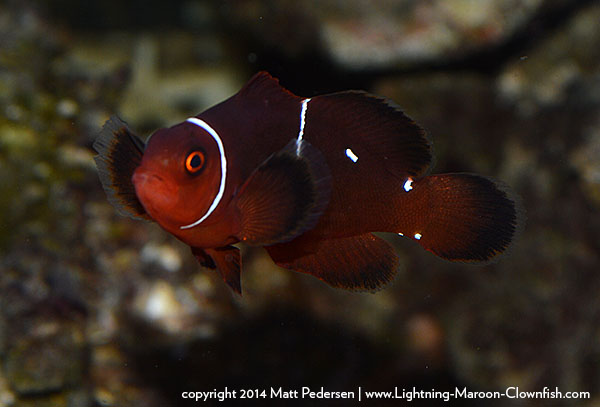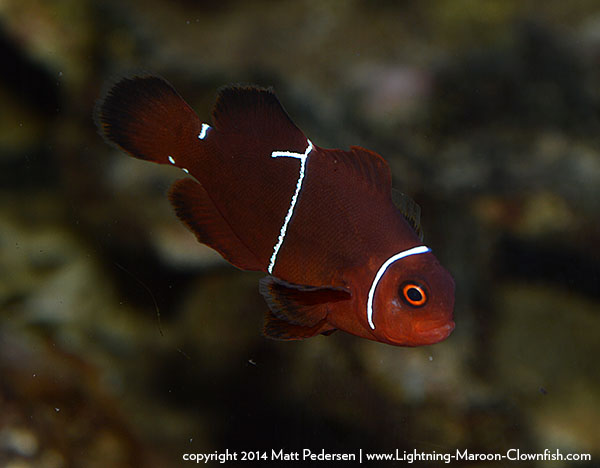 The best part? 24 hours after releasing the larger one, I allowed the Lightning (MWP3) to join him. So far…not a single bit of bickering whatsoever.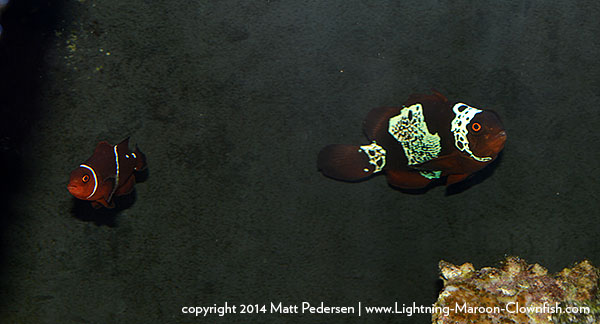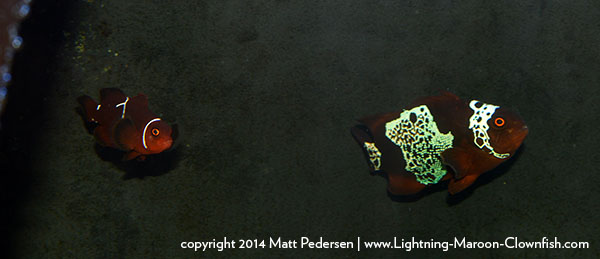 They don't sleep together yet, but they don't bicker or fight and they are indifferent about each other's presence. Therefore, it's hard to say that they're a bonded pair, but they are 100% on the road to more solid bonding in the days, weeks, and months ahead. So, barring any changes or unforeseen murders, this will be the pair of fish up for raffle at the MBI Workshop!