Let's start with Spawn #34 – as of Sunday morning, 6/15/2014, there were a lot of dead eggs on the bottom of the tank, but when I gave the eggs the viability test (touch them and see the larvae wiggle inside) they were actually still alive.  I pulled them and placed them in a specimen cup with vigorous aeration – none of them hatched, and through the course of the afternoon they all died and came off the tile.  So spawn #34 has wound up being a bit small, but there are probably still 50-100+ offspring in there. Seeing the larvae live for days behind the initial hatch HAS made me reconsider whether I am perhaps having egg quality issues, and more specifically issues that cause hatching problems.  In talking with fellow breeders like Mitch May (aka. Booyah, a good friend from back home in Chicago), he of course raised the same concern with me, but when we talked diet, that ruled out the problem.  Still, this could be a case-by-case thing, so it'll be interesting to me to see if I can change this. One of the annecdotes that Joe Licthenbert always instilled upon me was "if you want good eggs, feed the fish eggs".  Time to call up Rod Buehler of Rod's Food and see about getting a fresh shipment of Rod's Eggs up in here!
Spawn #35 was laid on Father's Day afternoon, 6-15-2014 – if all goes as is typical, it should have the first hatch night on the 21st, going into the 22nd.
And finally, it's been too long since I posted these – updates of the holdback Lightning Maroon Pair, the fish I'll call MWP1 and MWP2.  They've been in the Ecoxotic tank for a while now and are solidly paired.  What I hadn't really done is take closeup shots to update the pattern progression photos, and wow am I glad I finally did.  There are some big changes in both fish (but it's been almost 6  months). The largest change I noticed is in the headband of the larger fish, the female I'll be calling MWP1 and have been using for the pattern progression photos. Where her headband had been mostly solid white for all these years, it has finally seen the first pinpricks of red spotting come through. Knowing how these spots grow and evolve, it is fair to say that her once "boring" headband will now become an intricate latticework of pattern…in another 6 months or a year.
I'll post the photos in just a second, but here's the interesting thing.  If it has taken this long for the pattern to get this far, I wonder if the pattern development can be used to gauge the age of their wild mother.   As we've seen the pattern evolve, certainly it may hit a point where it truly feels analogous to mom…presuming the fish in my care grow and develop at a similar rate to the wild (a big presumption) then I feel that yes, it could give some insight into mom.  After all, we know that wild-type Onyx Percula offspring can continue to develop coloration and pattern for 3 years in captivity (which is why I never produced any great numbers of them) and now here, with the Lightning, I think my hypothesis that the pattern development takes years is unfolding before our eyes.  Look at the OTHER one, MWP2, the one that for all this time has until recently had solid white flanks.  It too, is finally turning.  I find this incredibly fascinating; if the speed of pattern development cannot be easily improved upon through selective breeding, it could mean that all Lightning Maroons will be a bit of a diamond in the rough.  You may have to buy one and wait for it to develop over time.  I wonder too, will there then be a huge premium placed on older fish, who are showing more well-progressed pattern? I could see this happening given that to this day, a well colored Onyx Percula which may be a year or older, will always fetch more than a partially barred, partially colored up juvenile.
Here's some photos I shot last night, Father's Day, June 15th, 2014, of MWP1 and MWP2.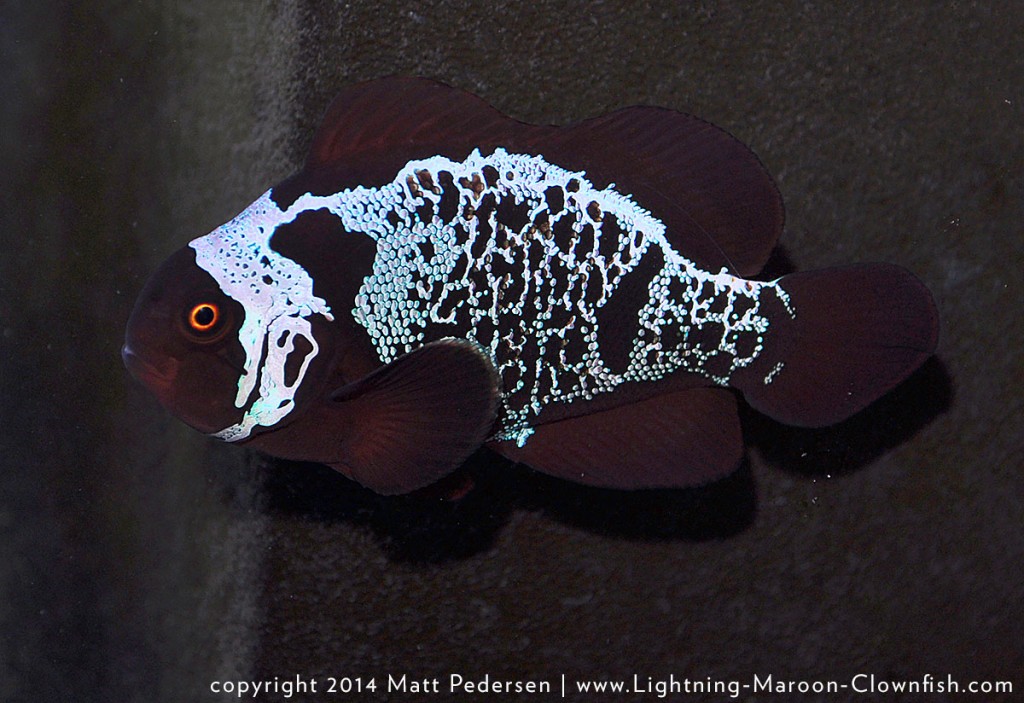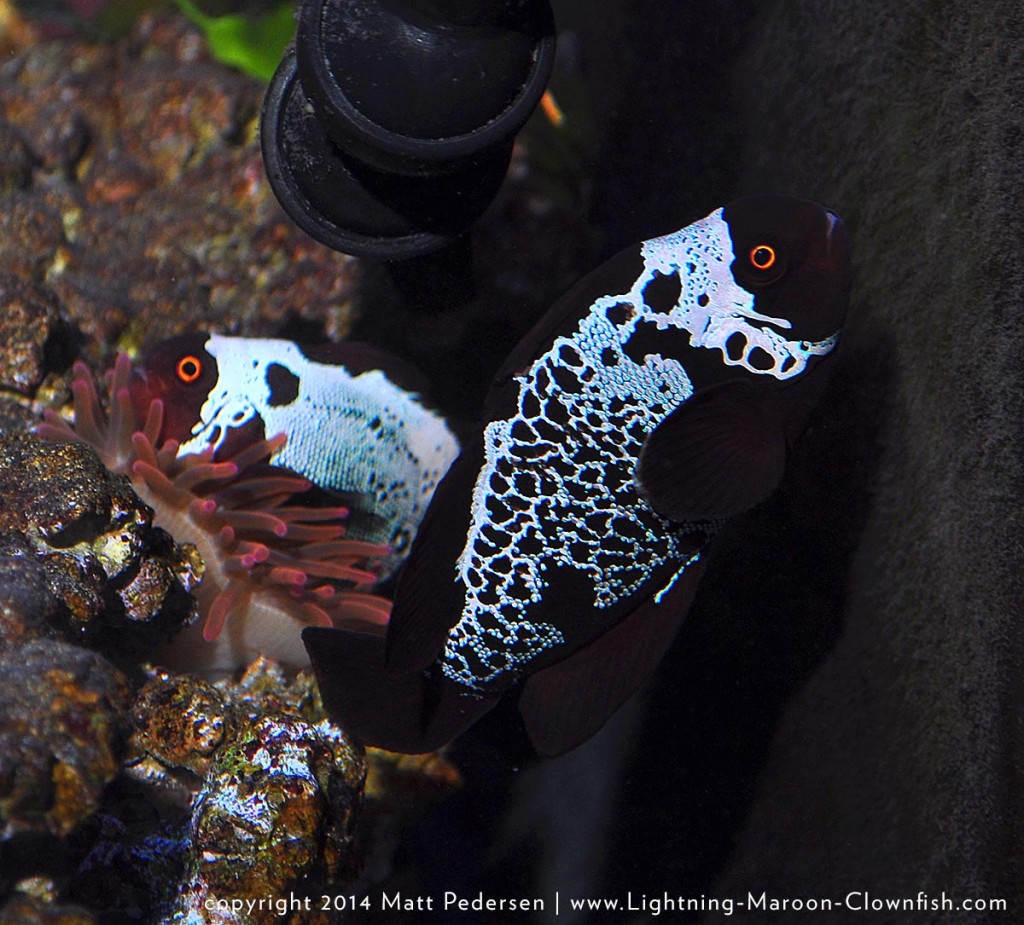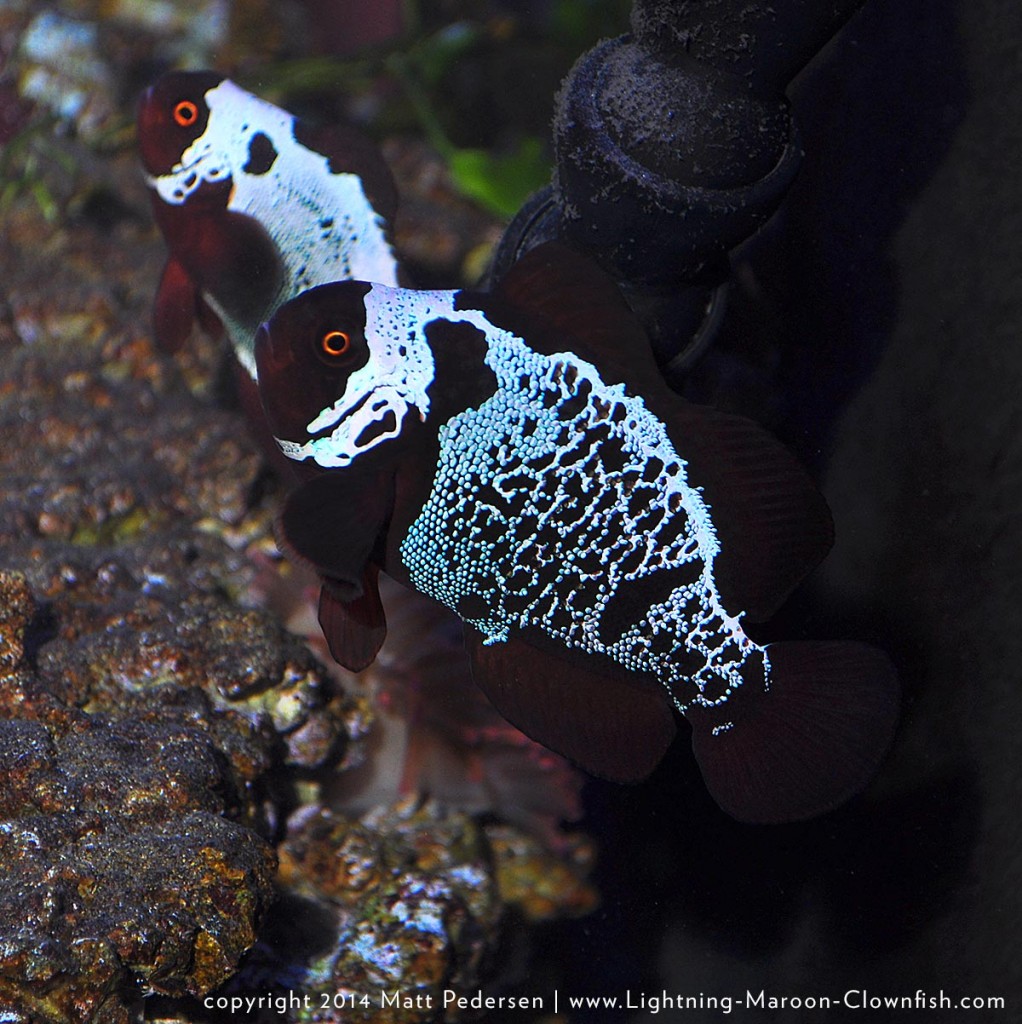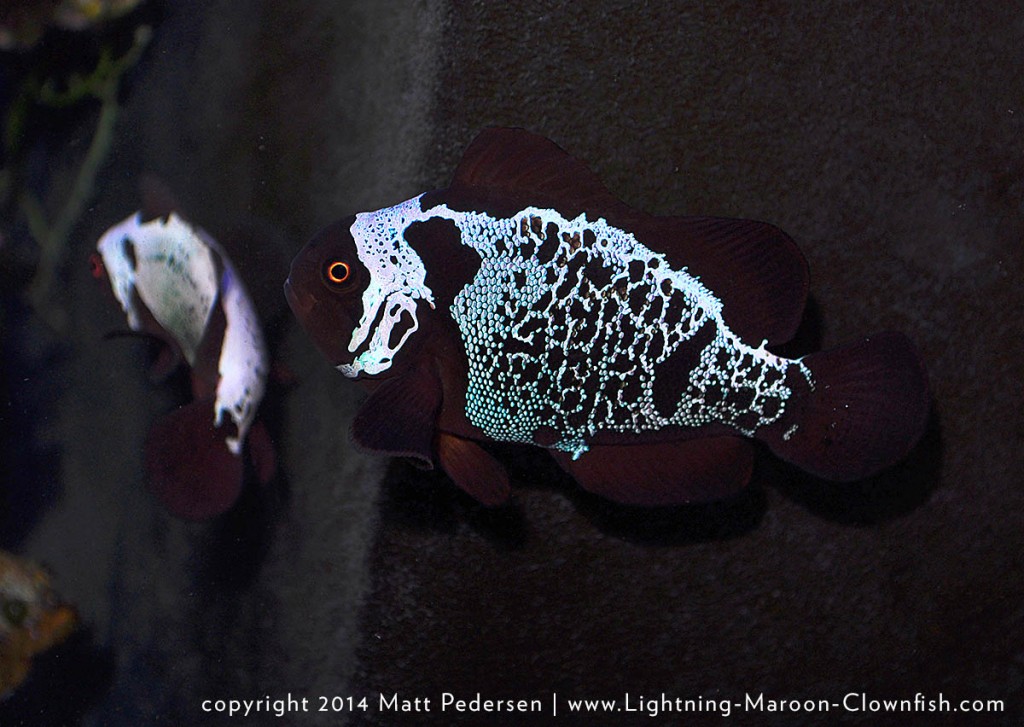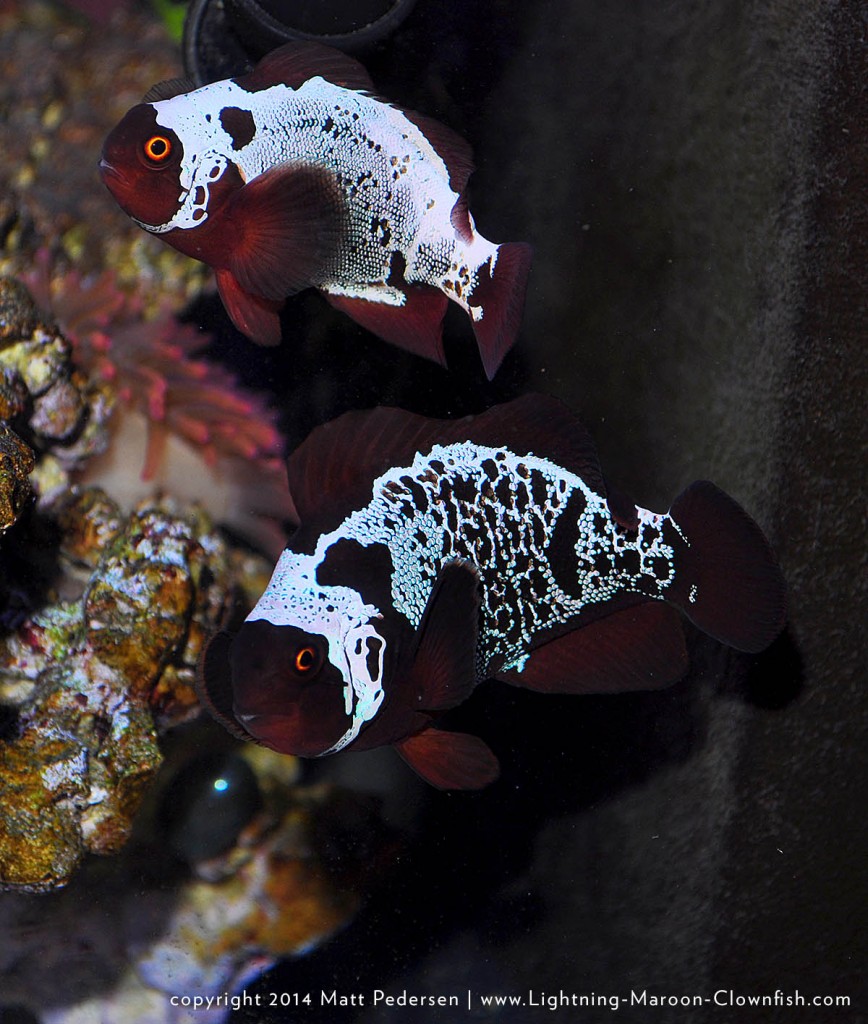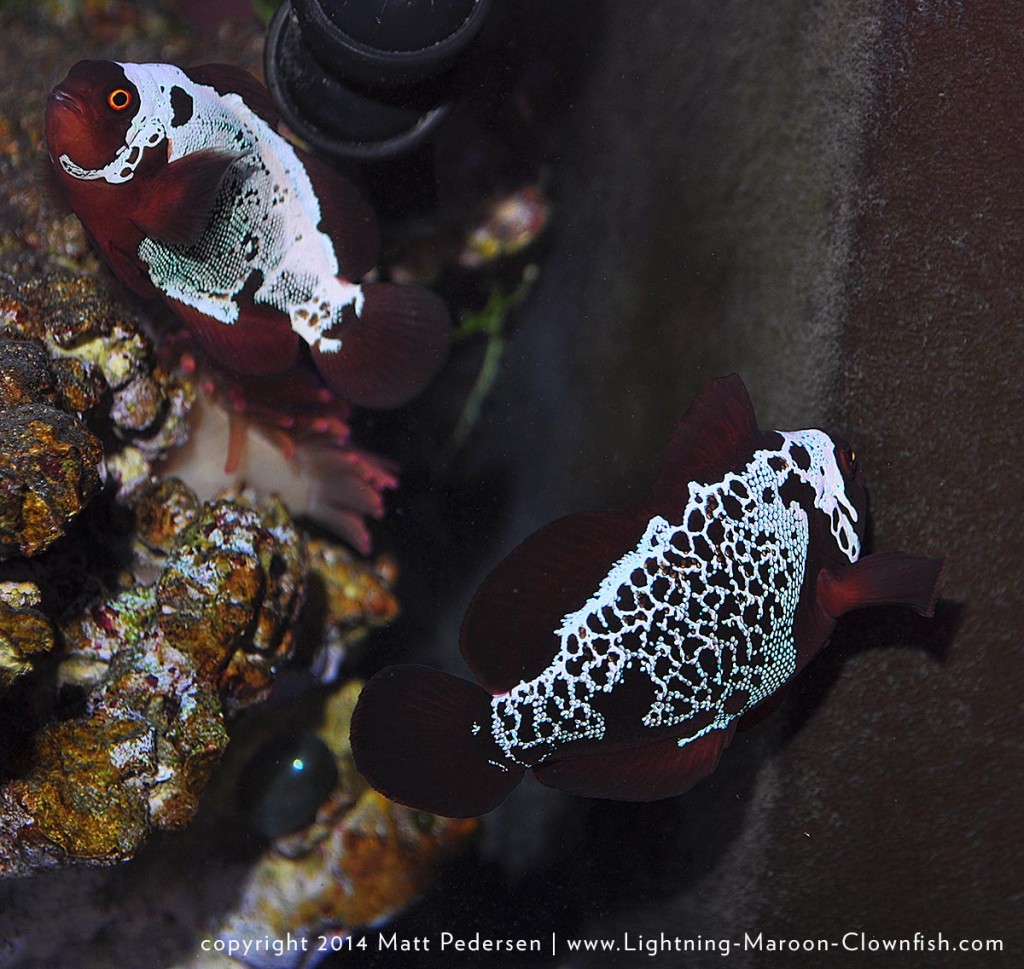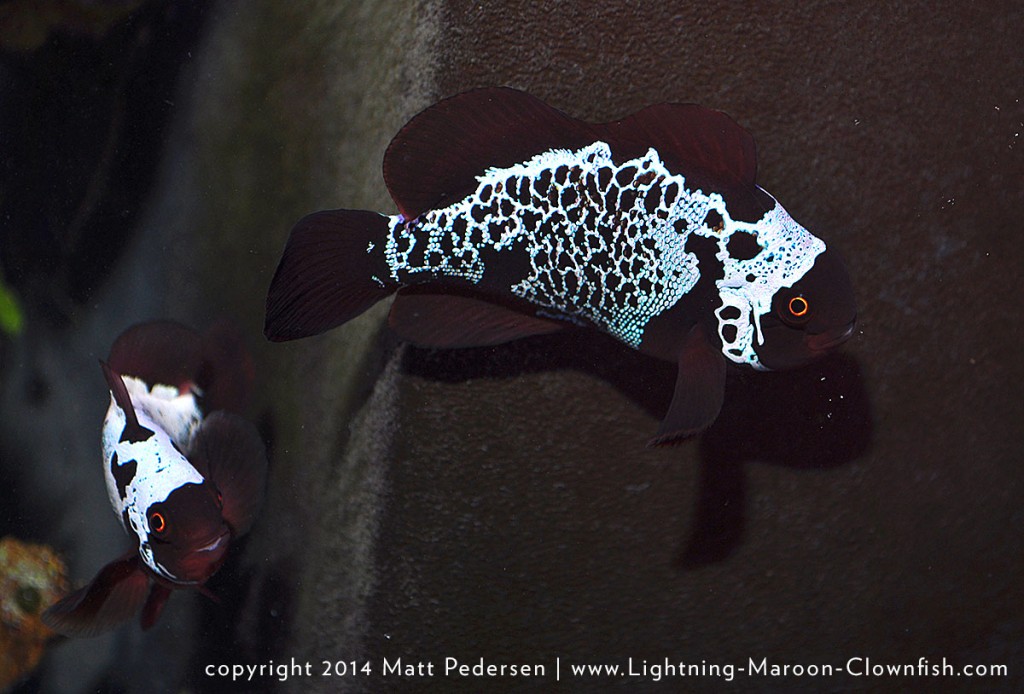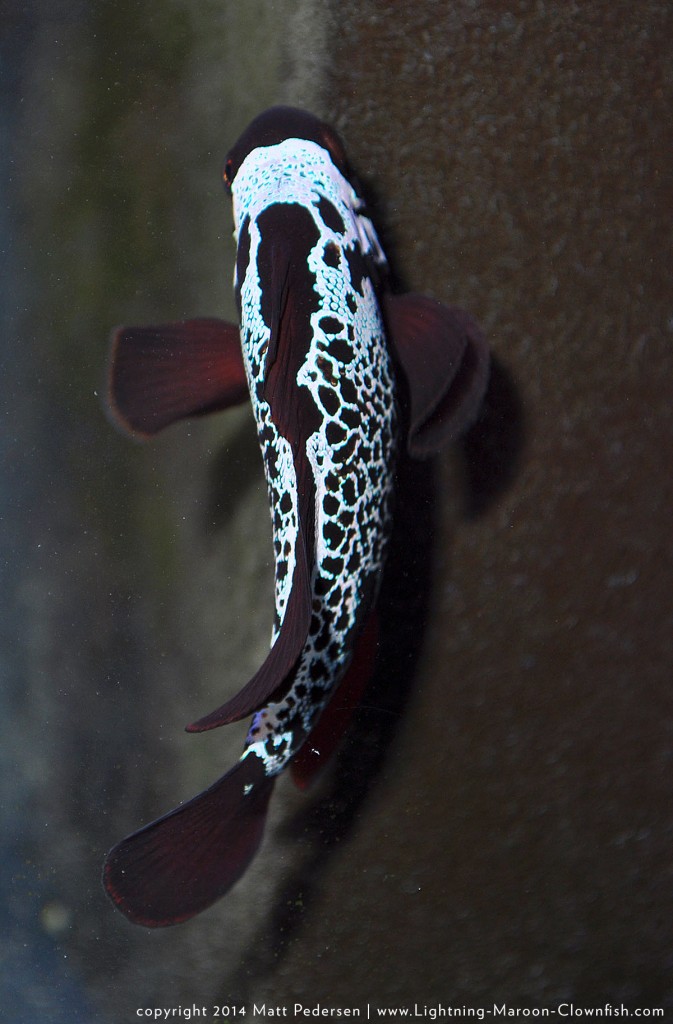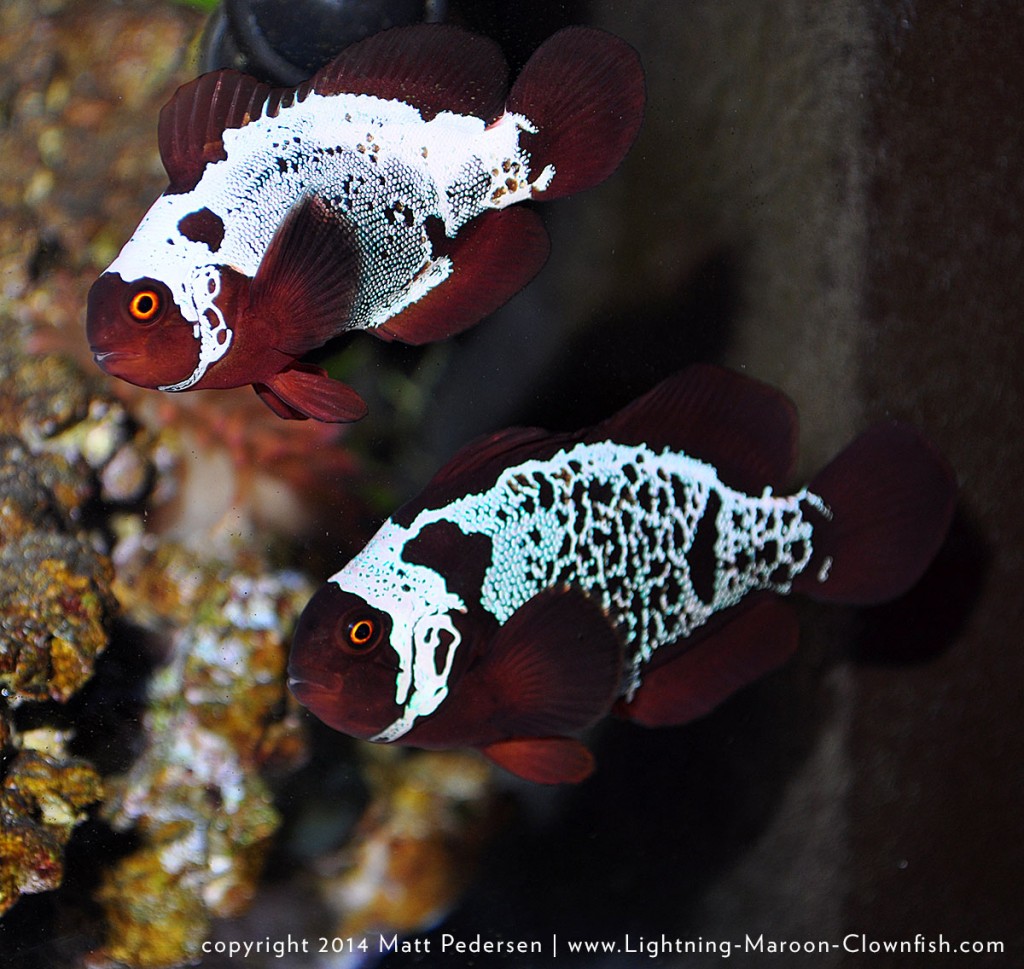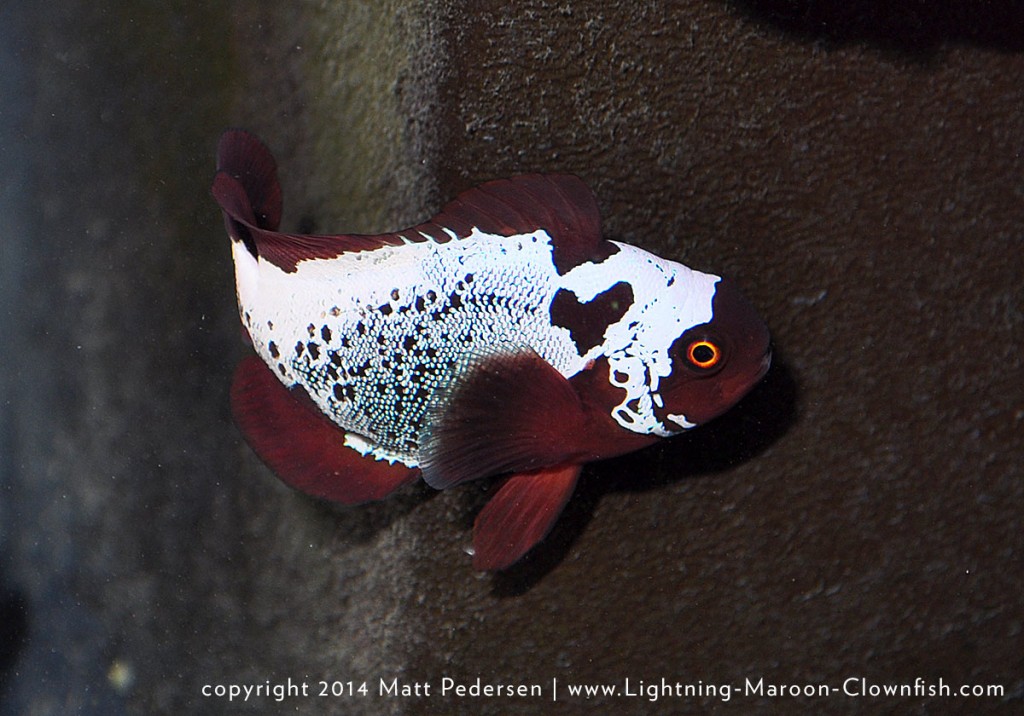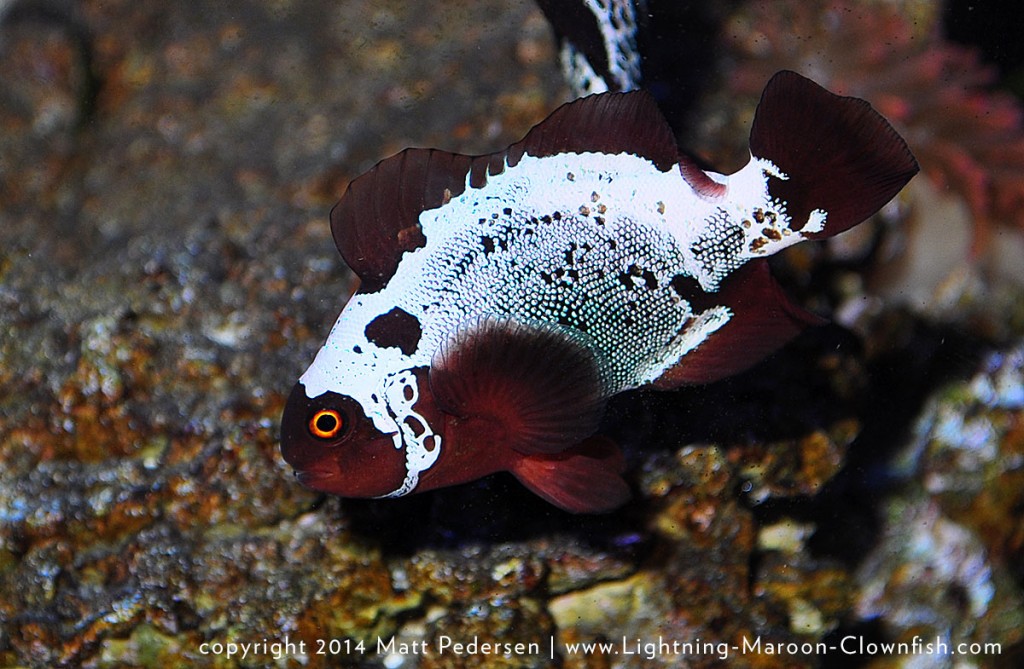 I also have some other photos and such I need to post…I think I skipped some things over the past few months!