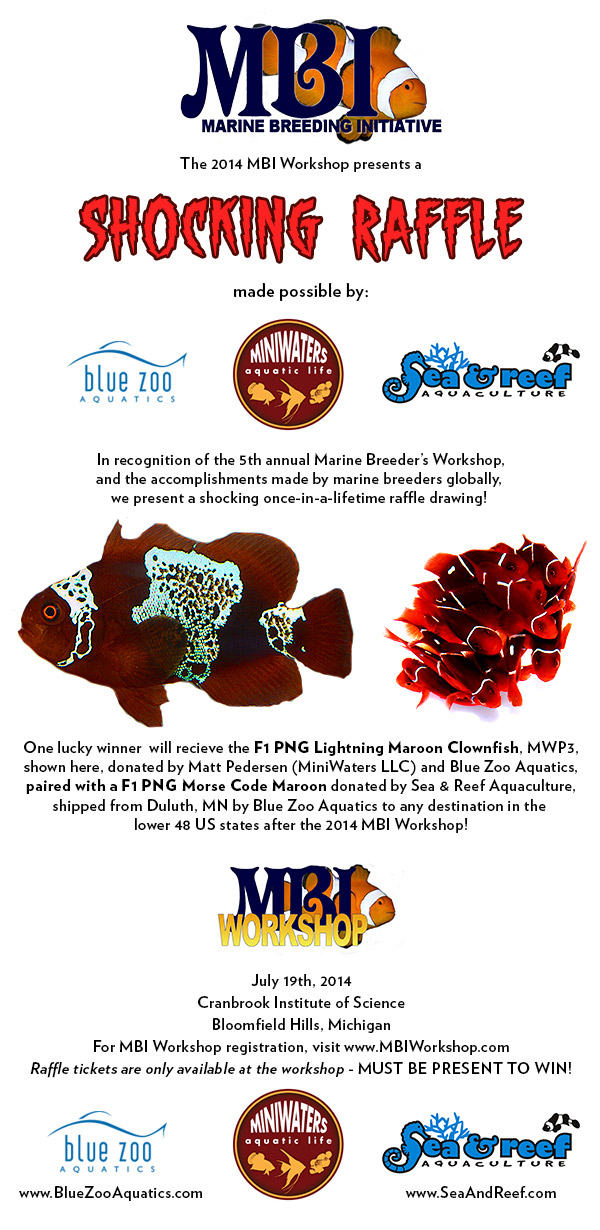 The 2014 MBI Workshop presents a SHOCKING RAFFLE made possible by Blue Zoo Aquatics, MiniWaters LLC, and Sea & Reef Aquaculture.
In recognition of the 5th annual Marine Breeder's Workshop, and the accomplishments made by marine breeders globally, we present a shocking once-in-a-lifetime raffle drawing!
One lucky winner will recieve the F1 PNG Lightning Maroon Clownfish, MWP3, shown here, donated by Matt Pedersen (MiniWaters LLC) and Blue Zoo Aquatics, paired with a F1 PNG Morse Code Maroon donated by Sea & Reef Aquaculture, shipped from Duluth, MN by Blue Zoo Aquatics to any destination in the lower 48 US states after the 2014 MBI Workshop!
MBI Workshop
July 19th, 2014
Cranbrook Institute of Science
Bloomfield Hills, Michigan
For MBI Workshop registration, visit www.MBIWorkshop.com
Raffle tickets are only available at the workshop – MUST BE PRESENT TO WIN!